The 6 best sunglasses for a big head
We only recommend products we love and that we think you will, too. We may receive a portion of sales from products purchased from this article, which was written by our Commerce team.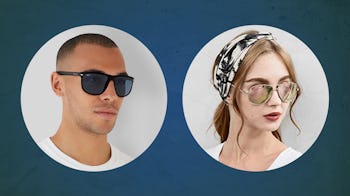 Amazon / Inverse
If your head is larger than most, the average pair of sunglasses probably doesn't fit comfortably. Cue the best sunglasses for a big head. First and foremost, you'll want to make sure that your sunglasses are larger than the standard pair (both in lens width and overall frame width) — but you'll also want to prioritize eye protection while you shop for a style you like.
What to look for in sunglasses for large heads
Lens width: Usually measured in millimeters (mm), this is the distance from one end to the other end of a single lens. While the lens width will differ depending on the style, most best-selling sunglasses on Amazon measure around 55 mm. Sunglasses with lenses wider than 55 mm will not only typically suit a wider face well, but will also contribute to a larger frame width and therefore a more comfortable fit for larger heads.
Frame width: The frame width is also usually measured in millimeters, but it's the length of the entire front section of the glasses — which includes both lenses and the nose piece. The average frame width for adults is between 136 and 138 millimeters, but the options on this list go as high as 165 millimeters. (Also keep in mind that some glasses have flexible hinges that allow the temples to bend outward, making them more comfortable for a wider face.)
Polarization: Polarized sunglasses are designed to reduce glare, which may help to minimize eyestrain. However, polarization is not the same as UV protection, and is therefore an optional feature that's a matter of personal preference.
UV Protection: Sunglasses should always have a special coating that protects your eyes against harmful UV rays. This includes UVA, UVB, and UVC, and it's often expressed in a percentage, the most (and best) being 100%. Some lenses might also have a UV400 label, which means they block out 99 to 100% of UV rays.
Style: Sunglasses come in all different styles. Some styles naturally have bigger lens widths and are therefore likely more comfortable for a large head, but most styles come in extra-large frame widths, as well, so you can find something you like. The sunglasses below are also available in a huge range of colors.
Shop the best extra-large sunglasses
In a hurry? Here are the top picks for sunglasses for big heads.
1. The overall best sunglasses for large heads
Almost 5,000 reviewers have awarded these Oakley Holbrook XL sunglasses an overall 4.7-star rating. Why? The lenses are designed to both enhance color and optical clarity while also filtering out all 100% of UVA, UVB, and UVC rays — not to mention blue-light rays. Then there's the thermoplastic O-Matter frame, which is strong and more flexible than most other pairs, and the three-point fit, which touches only the bridge of your nose and your ears for comfort. The squared shape is designed to be well suited for large heads, and this XL version has an even wider frame.
One reviewer wrote: "I'm one of those people who can't quite get themselves to spend over $100 on sunglasses even though they're a necessity for daily wear. I FINALLY sucked it up and bought a pair of expensive shades, these Oakley Holbrook XL's. Let me tell you, the quality of the lenses is fantastic. I brought them to Hawaii and the Prizm polarized lenses brought out so much depth and color to the ocean and general scenery itself [...] not to mention I have a larger head so these really suit my face more than others."
Lens width: 59 mm | Frame width: 140.3 mm | Polarized: no | UV protection: 100% (UVA, UVB, UVC) | Available color options: 21
2. The best cheap sunglasses
If, on the other hand, you're looking for a pair of sunglasses that won't break the bank (or won't be a huge loss if you lose them), these rectangular sunglasses which are less than $15 are the way to go. They're polarized to reduce glare, and they offer a UV400 protection coating, which blocks 99% to 100% of UV rays — all for a great price. Perhaps more importantly for large heads, the temples also have some give, and the frame is 145 millimeters wide. The timeless boxy style even comes with a free carrying pouch and screwdriver keychain, which helps explain the thousands of five-star reviews.
One reviewer wrote: "My husband has a big dome, like regular hats don't even fit his noggin. I've struggled finding him sunglasses that look good and fit, these are PERFECT. I've already bought him two different lens color variations and will probably buy a few more to keep around. The matte black ones look JUST like a name brand pair (the brand rhymes with shmayban)."
Lens width: 59 mm | Frame width: 145 mm | Polarized: yes | UV protection: 99 to 100% (UVA, UVB, UVC) | Available color options: 11
3. The best aviators for big heads
Due to their wide lenses and often flexible temples, aviators are already a well-suited design for larger heads. That said, these J+S aviators come in both medium and large, the latter of which has a 152-millimeter frame width. They even have spring-loaded hinges for extra flexibility and comfort. In terms of functionality, this pair is polarized to reduce glare and 400UV-rated to protect your eyes. Finally, the metallic alloy frame is lightweight yet durable, while the lenses come in several different colors.
One reviewer wrote: "I love these glasses. I've had them for about 2 weeks now and wanted to wait to see how they hold up to the daily grind. For the record, the frames are actually made of metal, which is a huge plus from me. They are plenty big for people with big heads, like myself. They've also held up pretty well as I don't always put these glasses away as gently as I should."
Lens width: 62mm | Frame width: 152 mm | Polarized: yes | UV protection: 99 to 100% (UVA, UVB) | Available color options: 10
4. The best Ray-Bans for big heads
While some dimensions aren't available, according to reviewers, these Ray-Ban sunglasses are one of the best options for a larger head. For one, the squared oval shape is well-suited for a bigger face, and for another, you can opt for a larger lens width, which can make for a more comfortable fit. These sunglasses also come in a few different lens types (solid, gradient, polarized, and mirrored) and feature the iconic Ray-Ban logo on the upper left. Each order includes a cleaning cloth and a case, too.
One reviewer wrote: "So the size of my head is on the larger side, and you know what they say about guys with bigger heads... that's right, they need big sunglasses! I've tried on the classic and new wayfarers, but they are just too small and don't seem to look right on my face. The RB4147s have that cool wayfarer style, but with bigger lenses that fit just right. These Ray-Bans are awesome! They are perfect and exactly what I wanted."
Lens width: 60mm | Frame width: approximately 140mm (exact size not specified) | Polarized: optional | UV protection: 100% (types not specified) | Available color options: 13
5. These affordable sports sunglasses
For more demanding activities (like cycling, hiking, and fishing) or for a sleeker style, there are these sports sunglasses. The shatterproof lenses are polarized to reduce glare while you're moving, but the durable frames also have soft, grippy silicone arms and a single-piece nosepad that resists sweat and slipping. Additionally, they provide 100% UV protection — but the biggest draw for many reviewers? While the frame width is only slightly larger than average, the temples have a spring-like design that offers both security and flexibility. They also come with a free case and cloth.
One reviewer wrote: "I have a bighead and these sunglasses fit perfectly they don't squeeze my head and give me a headache. they block out the sun very well and are polarized great for fishing and at the perfect price. They come with a fantastic storage case, cleaning cloth and a little storage sack."
Lens width: 64mm | Frame width: 140mm | Polarized: yes | UV protection: 100% (UVA and UVB) | Available color options: 19 |
6. The widest sunglasses
Finally, if the dimensions for the above glasses are still too small, there are these sunglasses specifically designed for big heads. They come in three sizes, the largest of which has a 165-mm frame width. They offer both anti-glare polarization and UV400 protection. Get them in your choice of several colors, or save with a combination of two pairs.
One reviewer wrote: "These are the first pair of sun glasses that fit so well I forget that I'm wearing them. Other pairs I've had get tight around the ears or my eyelashes bat against the lenses. These are large and stay on my face wonderfully. The quality of the lenses are high and by the end of the day I've forgotten that I've had them on. Highly rated for those big guys who are searching for something for them. Also, my stylish daughter gives them two thumbs up for trendiness."
Lens width: 62mm | Frame width: 165mm | Polarized: yes | UV protection: 100% (UVA, UVB, UVC) | Available color options: 11