45 awesome home upgrades that seem expensive but are cheap as hell on Amazon
Satisfy both house and wallet.
by Christina X. Wood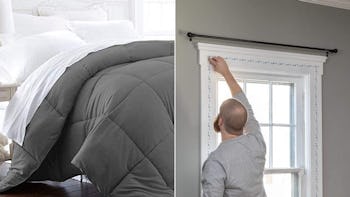 I've been on a push, lately, to organize and beautify my small home. It's not in bad shape but some of the walls, cabinets, and fixtures are showing their age, are a bit unsightly, or are just not as functional as I would like. I didn't want to spend too much money on any of this because there are more fun things I could do with my disposable income. But I want my rooms to function better and to update the look of my space to something between minimalist and artsy. I like to live in a place that's comfortable and easy to clean so keeping clutter to a minimum is important, too.
I've been finding some terrific solutions. Many of the problems I tackled were areas — lighting, plumbing, and storage — that I thought would be very expensive to address. But I dug in, looked for alternatives, kept an eye on the bottom line, and, to my delight, discovered these 45 awesome home upgrades that seem expensive but are actually cheap as hell on Amazon.
We only recommend products we love and that we think you will, too. We may receive a portion of sales from products purchased from this article, which was written by our Commerce team.
1. A wireless doorbell that takes seconds to install
Sometimes the location of the doorbell makes a huge difference in the livability of your home. If yours should be somewhere it isn't, you don't have to rewire anything to fix that. Just stick the bell portion of this wireless doorbell kit where visitors are most likely to encounter it. Then plug the receiver end in near where you are likely to hear it. You can even carry the receiver out to the yard or wherever you go in the house if you are expecting guests and don't want to stay near an outlet.
2. This Lazy Susan that's a genius organization trick
This 13-inch diameter Lazy Susan will solve your cabinet organization problems, make a terrific spinnable spice rack, or neatly serve snacks and cocktails to a big table of people so guests can reach what they want. The bamboo is attractive however you decide to use it, and it cleans easily with soap and water.
3. These stick-on lights for easy illumination anywhere
If you need a task light under your kitchen cabinets, or a light in the closet, pantry, or on a shelf, this thin stick-on light bar is an easy and simple solution. Mount it using the included screws or adhesive and, when you want light, just tap the lens to turn on 65 lumens of warm white glow, right where you need it.
4. A bamboo bath mat for a cleaner, spa-like bathroom
Create a clean and minimalist look in your bathroom by upgrading the bath mats from grungy fabric to this spa-like bamboo mat. You step out of the water onto bamboo slats that are treated to not be slippery, and are elevated off the floor on anti-slip gaskets so the mat doesn't move beneath you. It never needs laundering. Just wipe it clean.
5. These chic matching salt & pepper shakers for the table
Fill these two salt and pepper shakers with the aforementioned salt and pepper, or parmesan, or whatever you like to shake on your food. They hold a half-cup of spice and have adjustable pour spouts you can set for the volume you want on your food or for the size of the spice that's in them. And the stainless steel and clear bodies look good on the table.
6. A beautiful, rustic serving board made of olive wood
When everyone is snackish, turn the crackers, cheese, fruit, and nuts you have on hand into a charcuterie worthy of a fine dining establishment simply by arranging it all beautifully on this rustic and unique olive wood serving board. It comes in three sizes and each one is distinct.
7. A soft & luxurious duvet cover that's surprisingly affordable
Cover your comforter with this soft, microfiber duvet and completely change the look of your room in minutes. The fabric is super soft and easy to wash and it won't wrinkle so you don't have to drag out an iron. It comes in 12 colors — for King or Queen sizes — so you can create exactly the look you want. Reviewers love it and gave it over 17,000 five-star reviews. "This is the softest, most lightweight, and luxurious-feeling duvet cover I have ever had," said one.
8. These sheets that feel so much more expensive than they are
Dress your bed in these microfiber sheets and enjoy the silky softness and light weight without breaking the bank to get there. These four-piece sets come in four sizes and four colors and are so affordable you can stock up. They are also infused with aloe vera to make them even more delicious against your skin.
9. A clever tufted ottoman for hiding clutter in plain sight
When clutter starts to take over your living room or bedroom, unfold one of these faux leather storage ottomans and hide it all, right in plain sight. Stash shoes in one at the foot of the bed. Toss toys or gaming accessories into one in the living room. Set one at the entry as a place to drop your bag and store rain boots. They are strong enough to sit on and hold lots of gear.
10. A set of soft pillowcases in gorgeous colors
Updating your pillowcases is probably the fastest and cheapest way to pull your bedroom's style together. Coordinate their color with the walls or other furniture in the room to get a look that looks intentional and high-end. These soft microfiber pillowcases — in King or Standard/Queen — come in 12 rich or neutral colors to help you do this while also giving yourself a dreamy soft place to rest your head.
11. This set of 20 wooden hangers that elevates the closet
Tired of hunting for hangers or using the cheap ones that are leftover from the cleaners? This 20-pack of wooden hangers, in five colors, makes it easy to end all of that and turn your closet into a clothing boutique you get to dress from every day. The hooks swivel 360 degrees to make hanging your garments easy, and they have hooks to keep sleeveless or slippery items from sliding off.
12. This set of matching, stainless steel mixing bowls for $25
This set of stainless steel bowls will solve so many problems in your kitchen. They range in size from a small 3/4-quart bowl all the way up to a big five-quart bowl, and each one has a matching lid so you can use them for mixing and for storage. The flat bottoms make them easy to work with and they — including the lids — nest into each other so they store in one compact spot.
13. This clever corner shelf that taps underutilized space
Install this clever corner shelf into that wasted corner in a hallway or at the top of the stairs and tap what was dead space for a bit of decorative storage. Set a plant, piece of art, or a photograph on the shelves, and that once unused space becomes a personalized display area. You can also separate the pieces into multiple shelving units. It comes in eight colors.
14. A set of highball glasses for leveled-up cocktail nights
Serve everyone a beautiful cocktail in matching glasses with this affordable and lovely set of Italian highball glasses. These 6-inch-tall, 13-ounce glasses are simple and elegant and show off your sangria, Campari and soda, or Bloody Mary the way you want it to be seen.
15. This glass decanter that makes even budget booze look high end
No one will know you bought your whiskey in a bottle the size of a toddler at Costco or from the bottom shelf if you serve it from this stylish glass decanter. It's sized to pour easily, has an airtight glass stopper, and looks terrific on the bar. It's a great way to serve economical big-bottle or box wines on the dinner table, too.
16. A marble cutting board so nice you can serve on it
Roll your pastries or cut vegetables on this cool, natural marble board or use it to serve charcuterie, crostini, or small sandwiches. It comes in two sizes that are suitable for a small gathering or a single meal, and each has nonslip rubber feet on the bottom so it won't slide around or ding up the table.
17. This super plush bath mat that's available in 21 colors
Step out of the shower or bath onto this plush, velvety memory foam bath mat for a moment of relaxing luxury in your day. It absorbs water, has grippy dots on the underside so it doesn't move around, and comes in 21 colors so you can match it to your bathroom perfectly.
18. This clever over-the-door organizer for storing your bag collection
If all your backpacks, handbags, and travel bags are creating a clutter problem in the closet, these two over-the-door organizers are the solution. Just hook them to the back of the closet door and put your bags in the clear, plastic sections. You can see them all at once and they are protected from dust. It's a great way to store throws or big towels, too. They come in four colors.
19. This cold-brew coffee maker that's so easy to use
Give up the expensive drive-through or prepackaged cold brew and make your own with this clever and simple-to-use cold-brew coffee maker. A mesh sleeve holds your grounds as they steep to prevent sludge from getting into your brew. And the sleeve removes easily when the coffee is ready so you can store your java in the fridge, right in the carafe. It comes with a scoop and a funnel to make loading it easy.
20. The easy, eco-friendlier mop system with reusable pads
This microfiber mop system makes keeping your hard floors clean so simple and easy. Spilled something? The microfiber pad will wipe that right up. Dust bunnies? The pad is like a dust magnet. You can even lay down some spray cleaner of your choice and use it to clean the floors. The head swivels 360 degrees to get into tight corners (and so it stores flat) and the handle extends from 35 to 60 inches. It comes with four machine-washable mop pads so you can switch them out whenever you need.
21. A complete set of kitchen utensils with a countertop container
This set of kitchen tools is everything you need to start off a kitchen. There are nine utensils — spoons, turners, tongs, a ladle, a whisk, a big potato masher, and more — that fit into the included stainless steel utensil holder. And they are all stainless steel to match the utensil holder. They also have loops so you can hang them if desired.
22. This fluffy comforter that you can use all year-round
This surprisingly affordable down alternative comforter is the perfect weight to keep you warm and cozy — but not too warm — all year round. The microfiber shell is soft and elegant on its own or can go inside a duvet cover, and the box stitching keeps the synthetic fill from moving around or clumping. There are loops in all four corners to make putting a duvet cover on — and keeping it in place — simple. It comes in three colors.
23. A couch-elevating throw blanket that's also warm & cozy
This soft chenille throw blanket will offer the pop of color — there are four available — that your living room needs. Just drape it over an armchair or the couch in an artful way and it will visually cozy up the room in an instant. The fabric offers real, tactile coziness, too, because it's deliciously soft and just warm enough to make you feel comforted without overheating.
24. A wall sconce that comes in 7 colors for a fast room update
This attractive minimalist, vintage-style sconce lamp is versatile enough to enhance any room and pairs beautifully with an Edison bulb. Mount it in an entry, on a landing, or over an armchair or the bed for reading light. It comes in seven colors so you can use it to add color or to blend in with your furnishings.
25. A handy charging stand for your phone, watch, & earbuds
Charge up your Apple everyday carry on this compact and tidy wireless charging station that accommodates your iPhone, Apple Watch, and AirPods in one small footprint on your dresser — while using only one plug to keep them all juiced with its three Qi charging pads. You can seat your phone horizontally or vertically while it charges.
26. A snazzy collection of plants that stays green no matter what
You don't have to have a green thumb to enjoy a bit of greenery in your house. These mini potted plants are made from plastic so they will make no demands on your time and don't care how much light they get. The gray-green eucalyptus leaves look realistic and charming on a bedside table, a side table, or as a dining table centerpiece.
27. This deliciously-scented soy candle poured into glass
Nothing makes a home feel more inviting or pleasant than a room that smells good. These scented soy candles let you choose a scent from 26 options to achieve that easily. You can make your home smell like an ocean breeze, fresh linen, or just-baked blueberry cobbler, among other things, to suit the current mood. They come in four sizes and look beautiful in their black glass containers. The cotton wicks are clean and long-burning.
28. These elegant cabinet pulls for a 30-minute kitchen remodel
Does your kitchen need an update? Sometimes just changing the cabinet pulls is all it takes to make a kitchen look so much better. And this 30-pack of cabinet pulls can turn most cabinets modern-looking for less than $30 and 30 minutes of effort with nothing more than a screwdriver. They come in three colors to match your style and fit cabinets and drawers with two screw holes.
29. These motion-triggered lights for smart under-cabinet illumination
These six stick-on motion-sensing lights are an easy way to add task lighting to your kitchen without hiring an electrician. Choose the color light you prefer, stick them under your cabinets, and enjoy improved lighting instantly. They come on automatically when they sense motion and turn off again 15 seconds later. You stick a magnet to the cupboard, and the lights to the magnet, so it's easy to pull the lights off to change the batteries.
30. This set of gold flatware with a luxe matte finish
You can set your table with this unique and modern matte gold flatware set for less than $25. It has complete service for four and the stainless steel will not bend when you stab your steak or slurp your soup. If gold isn't your jam, the set also comes in five other colors.
31. This tiny security camera so you can keep an eye on your home from your phone
If you think setting up home security so you can keep an eye on your home and pets when you aren't there is expensive or difficult, meet the Blink Mini. This tiny camera is super easy to install. Just plug it in and follow the in-app directions. It is motion-triggered, has two-way audio and a live view so you can chat with people (or pets) in your home from anywhere, and it works with Amazon Alexa or its own app.
32. These clever outlet covers with built-in night lights
Replace your light switches or outlet covers with this two-pack of SnapPower GuideLights and add nightlights to the room at the same time. They are easy to install and when the room is dark, they will throw a small amount of light so you can find the light switch to turn on the lights — or even just leave the lights off to grab a glass of water in the night.
33. A fake rock for your key so you never get locked out
Hide a spare key in this realistic-looking fake rock and hide it somewhere in the garden so that if you leave your keys inside, you have a backup house key at the ready. The rock blends into the landscaping and the plastic cover keeps your key clean and dry inside. You will never have to call a locksmith, meet the family at home to let them in, or worry that the kids will get locked out.
34. These simple magnetic garage door accents that look surprisingly good
It's amazing what a little accessorizing can do for the look of your house. Your automatic garage door, for example, might not need a handle or hinges but it looks a lot more finished and complete with them, even if they don't function. These magnetic garage door accents install in seconds and look surprisingly realistic. They give your house a finished look that punches well above the $15 price tag.
35. This fast & cheap backsplash that revitalizes the kitchen
A backsplash above the sink or counters gives the kitchen a stylish, clean look that usually requires the expensive services of a tile installer. This peel and stick backsplash, though, achieves nearly the same look with an hour of your time and a pair of scissors. "I love everything about these tiles!" said one reviewer. "The way they look, the way they feel, the way they are cleaned...it's all so easy. It looks and feels like real tile. I was super skeptical but it turned out great and kept us way under budget."
36. These simple window insulators that help save money on energy bills
This shrink film kit is a clever way to insulate windows against lost heat or air conditioning without installing anything permanent. Just cut the plastic film to fit your windows, stick it on with the included adhesive strips, and use a blow dryer to shrink it to fit snugly around the frame. You will hardly notice it is there but it creates a layer of air between the window and the room that insulates it against heat transfer so your AC or heat stays inside.
37. A water-pressure boosting shower head that will make you love your bathroom
If you think you need a plumber to improve the quality of your shower, you have not met the SparkPod shower head. It increases water pressure by forcing the water through its 90 rubber jets so that your shower will go from weak and disappointing to, "Is that even legal?" Getting doused in a downpour of rain-style shower boosted with tons of water pressure makes showering fabulous.
38. This weird, hair-trapping mushroom that keeps the plumber away
Install this mushroom-shaped hair catcher into the drain of your shower and it will catch all the pet fur and human hair that would otherwise go down the drain and cause a clog. It traps it all in the tube section, hidden from view under your drain. All you have to do is pull it out and clean it off occasionally and the water will keep flowing freely.
39. This clever solution for concealing messy wires
This cable management box cleans up that rat's nest of messy wires that surrounds your desk or entertainment center in just a few seconds. Drop the power strip into the box. Run all the wires through the slots in the back. And snap on the lid. Done! It looks so tidy and keeps those tempting wires safely hidden from pets and children.
40. This duvet cover that feels like you are in an expensive hotel
Put your comforter in this crisp, white duvet cover and transform your bedroom to look like an expensive hotel. Choose from light grey or taupe embroidered squares on both the cover and the matching shams for a chic and coordinated look that will make going to bed feel as if you are on a deluxe vacation.
41. The peel-and-stick wallpaper that looks like an exposed brick wall
Love the look of exposed brick? You can have it today. This peel-and-stick wallpaper looks like exposed brick and can quickly cover a lot of problems with old, stained, or rough walls. Do one accent wall in brick, create a bit of brick peeking out from behind a cabinet, or use it to restyle a fireplace with a brick look.
42. A textured fabric sofa cover that you can throw in the wash
Embrace a relaxed vibe with this easy-to-install sofa cover and protect your upholstery from pet fur, dog paws, and spills. You can pull this relaxed cover off and throw it in the wash whenever you like and the couch underneath will either serve for another year or — if new — stay preserved from the assaults of daily life for many years. Meanwhile, your place will evoke a 1970s Greenwich Village vibe while your cats lounge without worrying about leaving furry forensic evidence.
43. This water & sun protection hack for keeping patio furniture looking like new
Patio furniture, umbrellas, pillows, and other outdoor fabrics can be costly, and they spend their lives out in the elements. This sun and water protector will help them survive longer out there by protecting them from the deteriorating effects of the sun and by making them water repellent so water slides off instead of sinking in and causing rot. All you do is spray all your outdoor fabrics with these two 21-ounce cans and everything will last longer and look better.
44. An indicator magnet so you know if the dishes are dirty or clean
Stick this simple clean/dirty indicator magnetically to the front of the dishwasher and you will never again have to examine the dishes to decide if the load is clean or dirty. Just slide it to clean when you turn on the dishwasher and back to dirty when you load dirty dishes into it. Everyone will always know what's what.
45. The invisible backsplash vinyl that protects the walls
Protect the walls behind your sink without changing the look by peeling and sticking this clear vinyl protective backsplash to the wall. It won't stain or absorb oils from mistakes in the kitchen and wipes clean easily. Otherwise, you will forget it's there. And it's so easy to install. Just peel off the backing and stick it to the wall.