Amazon Can Barely Keep These Random Things In Stock Because They're So Effing Cool
And don't forget affordable, too.
by Rachel Bar-Gadda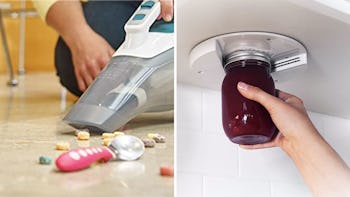 We may receive a portion of sales if you purchase a product through a link in this article.
If you've ever done a deep dive on Amazon, you may start off searching for a replacement dish brush but may well end up browsing for pasties. In short, it's a wild world out there in the Amazon atmosphere and it can be tempting to spend hours ping-ponging from one arbitrary product to another. Well, I've done the research for you: Amazon can barely keep these random things in stock because they're so effing cool.
Some of the random things you'll find on this list include a toilet spray that works like magic, glass swing-top bottles perfect for homespun drinks, and a very cool pizza-making set with everything you need. Feast your eyes on an incredibly popular volumizer brush that lets you dry and style and might just change your life along the way. Or open your mind to silicone food storage bags that can hold anything and are reusable, like, forever.
Read on to see more cool products that might seem random but have the potential to upgrade your life in small or large ways. Happy deep-diving.
This article was originally published on