The 5 Best Suitcases Under $150
Take some of the stress out of traveling with the right luggage.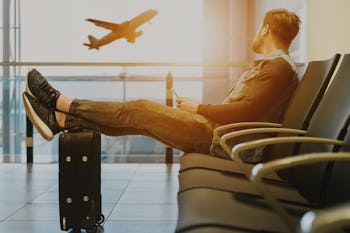 Unsplash / JESHOOTS.COM
Let's face it. Traveling—whether it be by airplane, train, car or boat—isn't usually the most enjoyable activity. The days leading up to it are filled with anxiety too, mostly because of the seemingly insurmountable task of packing. But packing doesn't have to be the worst if you have the right luggage.
The right luggage is designed to meet airline guidelines for carry-ons and checked luggage. The right luggage has enough compartments to keep your personal items organized—and it has those four-wheel rollersthat glide along the airport floor and the concrete sidewalk.
Not all luggage is created the same, and you don't have to spend a fortune to get a suitcase the works wonders for you. Below, you'll find the five best suitcases on Amazon for under $150.
Why We Picked It: A suitcase doesn't have to be huge in order to be useful. In fact, compact luggage is a must-have for anyone who travels by air and needs a thoughtfully sized carry on for putting in the overhead storage or anyone who frequently takes weekend trips and only needs a few days' worth of clothing. This fully lined suitcasehas a protective hard shell with a scratch-resistant exterior, and is expandable up to 15% for additional packing space. The fourcasters make it easy to roll your suitcase in any direction.
Why We Picked It: Not all travel requires the same size suitcase. For the avid traveler who prefers both a checked suitcase and a carry on, or for the family that needs enough space to stay organized, this 3-piece set can solve most packing stresses. Including a 20-inch, 24-inch and 28-inch sized suitcase, this set is designed to be both long lasting and ultra-lightweight. Made from 100% ABS material, the impact resistant shell will keep your belongings secure without weighing you down. The interior features a mesh zip pocket for easy storage of toiletries, shoes, electronics and more. If that's not enough, all three sizes come with TSA-approved locks for adding an extra layer of peace of mind to the hectic travel experience.
Why We Picked It: Complete with three pieces and a worldwide two-year warranty, this soft sided luggage set offers a little more in easy to reach exterior storage than their hard shell counterparts. The four multi-directional casters and the telescopic handle made from ergonomic aluminum guarantee a near effortless glide across most surfaces.
Why We Picked It: Boasting a 4.5 star rating, this hard sided suitcase from American Tourister comes in a large checked size, a medium checked size, a carry size, a 2-piece set, and a 3-piece set to meet whatever your travel needs might be. Most fun patterned suitcases like these are reserved for child sizes or designer brands, but American Tourister offers nine unique prints that'll make anyone's travel a little less boring. It opens like a book for easy access to the entire contents, and features a mesh divider and cross straps for secure belongings.
Why We Picked It: Stylish luggage doesn't have to have a whole lot going on to enhance your travel experience. This classic expandable hard sided luggage from Samsonite is both chic—it kind of looks like an alligator—and functional, with its 100 percent micro diamond Polycarbonate exterior, expandable zipper with TSA approved side mounted locks and muti-directional roller wheels. It'll meet most airlines' carry on standards while still maximizing your ability to pack smart.