Supercharge Your Workday With The Best Standing Desk Mat
We've found a fantastic desk mat to suit any office or home worker's needs.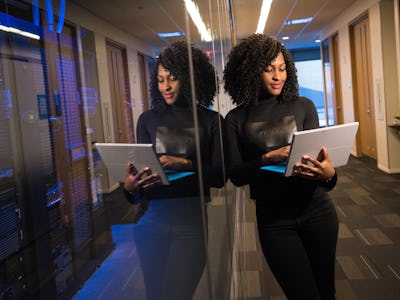 Pexels
If you use a standing desk each day while working your office job (or at-home gig), you might be searching for a viable option to stand on during the day. Wearing a hole in the carpet certainly isn't an option, and plastic can be uncomfortable for your feet and affect your posture. That's why you need a mat made specifically for standing on all day. We've searched around to find the best one we could spy, and settled on this fantastic pick that should work for anyone looking for the best place to stand during a lengthy work day. Hopefully it'll help you kiss all that frustrating back pain goodbye, and make work an overall much more enjoyable experience.
This affordable mat is a thick, sturdy option that bills itself as the first "anti-fatigue" mat that was actually made specifically for standing desks. The Wirecutter has called it one of its top picks since 2016, and it comes with four different colors to help go with your decor. It's made out of a sturdy, comfortable material that won't slip and slide, but it will ensure you have a place for your feet, no matter what type of stance you want to take during your work shift.
You can also move it with just one foot, though it won't slip out from under you. You'll also be getting a lengthy 7-year manufacturer's warranty and 100% satisfaction guarantee. So you can purchase one, presumably, and hang onto it for quite some time, as long as you take care of it. That means it'll be a pricier investment than you may normally make (not as expensive as a standing desk, of course) but it should last you for a while. It may just be a mat, but it's an integral part of working with a standing desk. And if you play your cards right, it'll be in your family (or office building) for quite some time.