3 Best Solar Watches Under $100
These solar-powered watches will last as long as the sun is shining.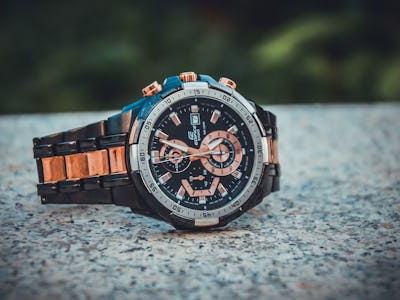 Pexels
Have a favorite watch but the battery's gone dead? You could avoid that unfortunate situation with a solar-powered watch. As long as you've got sunlight, you can recharge these watches without having to worry about taking them to a jeweler and having the battery replaced or doing it on your own. And they won't break the bank, which might be the best part. Here are three selections of fantastic solar watches that you can pick up for under $100, all excellent choices no matter if you're looking for a dressier accessory or a casual timepiece to go with your everyday wear.
This classic Casio is cool, but still rugged enough to go anywhere you do, with a shock-resistant casing, LED backlight and day, date, and time display as well as a daily alarm, atomic timekeeping, and a slick black look. Most importantly, it features a solar power battery so you don't have to worry about it dying when you need it most. So whether you're going to go mountain-climbing or braving the urban jungle, you can take this sturdy watch with you just about anywhere. You've got the power of the sun on your wrist!
This is one of the nicer solar-powered watches you'll find on the market, and you may be surprised to find that it's also under $100. It's 37 mm stainless steel with a Hardlex dial window and a stainless steel link bracelet with a push-button clasp to make it easier to put on. It's also water-resistant, so you can take all that class with you no matter where you go. Once again, like the other watches we've spotlighted, it runs on solar power, so you don't have to worry about having someone open it up and ruin its exterior by changing out the battery.
This attractive Citizen watch is has a stainless steel face with a black dial including a date window and canvas band, making it appropriate to wear with jeans and a T-shirt or a button-down and khakis. It has a buckled closure, analog display, and Japanese quartz movement. It's also water-resistant in addition to being solar-powered. You can take it diving with you or just out on a stroll through the mall. Either way, you won't have to worry about it losing juice, because you've got the sun to keep it going—isn't that awesome? Plus, the canvas wristband goes with just about everything and should be pretty breathable on your wrist.