Why the National Women's Soccer League is hopefully, finally, here to stay
"We kept playing. That's the story of our lives."
by Yale Averbuch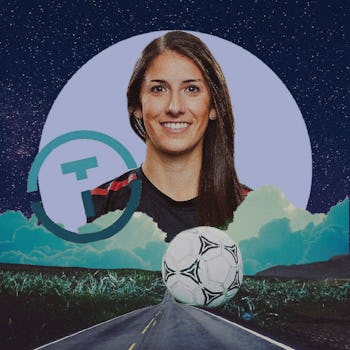 Natasha Chomko, aka POST-WOOK, for Inverse
This year, the United States Women's Soccer team won the FIFA Women's World Cup in France, further cementing their place as the best in the world. But back home, women's professional soccer has gone through several incarnations, the most recent of which being the National Women's Soccer League, which wraps up its seventh season this weekend.
Yael Averbuch, president of the NWSL players association, tells Inverse that a pro league didn't always feel as stable, though.
Averbuch is the visionary behind the soccer training app Techne, which teaches soccer skills and how to organize training routines so they build off each other for greater improvement.
"It encapsulates a process that has come to define who I am — the process of striving for mastery," Averbuch says of the Techne.
The app is all about mastering specific soccer skills in a solo environment — often against a wall — and enabling the athlete to review their data afterward.
On Sunday, October 27, the NWSL Championship game will be held between the North Carolina Courage and the Chicago Red Stars. The game will air at 3:30 p.m. Eastern on ESPN.
Below, in her own words is why Averbuch, a veteran of the pro women's soccer in the US — and witness to one league's demise — believes that fans of women's soccer will return in greater numbers in the years to come.
Yael Averbuch: There were some inklings. There were some rumors. But we never expected that there wouldn't be a league. We had left college and gone right into a professional league, so that was all we knew.
I played for three years in the Women's Professional Soccer League (WPS) between 2009 and 2011. I played two years in New Jersey and then the third year for the Western New York Flash. Looking back, we were really playing with the best players in the world. We had Ashlyn Harris in goal, Candice Chapman, (a Canadian international) in the back, we had Caroline Seger from Sweden. We had Marta, Alex Morgan, Christine Sinclar, just to name a few.
We had a long off-season, so a bunch of us WPS players would get together and play small-sided games. That winter, a group of us were playing in Clifton, New Jersey, which is right by where I live. Then, during a break in our game, some people checked their phones: we all had an email saying that that league had folded.
We knew the WPS was fragile, but you never think that when you're in the middle of it. This was our league. So we were standing there thinking, "what do we do? Do we keep training right now? Then, what do we do with our lives?"
We kept playing. That's the story of our lives.
"This is a dream that these women have worked their entire lives for"
We kept training, we found teams to play on overseas. I ended up going to play in Sweden in 2012. But then I started hearing some rumors that the new league, the National Women's Soccer League, was starting up. I remember thinking "great! There's going to be a new league starting in the US!" I always knew I wanted to play in the U.S., but I was still wary. I had a good experience in Sweden, so I stayed for the 2013 season. But I watched the NWSL from afar. I would stay up late into the night and stream the games on my laptop. 
It was really interesting because nobody knew what this league would be, and we were all nervous about it. We realized that this isn't something we can take for granted. I don't think that anyone who saw the previous two leagues (WUSA and WPS) fold will forget the feeling of having something not succeed on our watch. There was this need for sustainability, but there was also a need for a voice for the players. We, as players, wanted to be a part of making sure that this league did as well as it could.
And now, the NWSL has been around for seven years.
In general, the players are the league's most valuable asset. That's always the case, but we have some of the best players in the world in our league — including players who just came back from the World Cup and otherwise. What needs to happen is that players need to feel taken care of. That's a huge piece of what we've done. We want them to have a place to turn to where they can get questions answered, or talk about their professional opportunities on and off the field.
People want to be fans of players, and to keep that, we need players to be happy at their clubs. We need them to have the resources to stay at their clubs and want to live in those markets in the off-season. It has to be possible to have a long professional career. As we chip away at that, we're going to see women staying in the league for longer, and staying on the same team for longer. If they can make that club their true home base, then we'll have so much more sustainability.
This league is purposely constructed to survive in the long-run, so it might take longer than even 2020 for us to get where we want to be. It might take until 2030. But what we have right now is a huge opportunity. It's a way for people to come out and watch the top one percent of athletes compete. It's a chance to support women who are the best at what they do to have long, and sustainable careers. It's a place for brands to align with a huge movement in sport
People will begin to see this as a place to invest and become involved. The hope is that we'll continue to build the same way that we trained as athletes. Each day, you might not be able to see the progress, and sometimes it feels hard. But if we look back three, five, or ten years down the line, we'll be able to see where we came from, and see the body of work that has come together.
This is a dream that these women have worked their entire lives for and we want this to be the culmination of that sacrifice.
See also: As the NWSL ends another season, Yael Averbuch predicts its future
Yael Averbuch is a professional soccer player and member of the Inverse Future 50, a group of thinkers and doers who will be positive forces for good in the 2020s. Follow Yael on Twitter at @Yael_Averbuch.