5 Shirts Every 'Stranger Things' Fan Needs
Friends don't lie, and we're telling you these are the coolest 'Stranger Things' tees ever.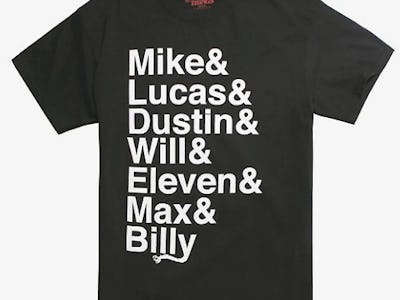 Hot Topic 
When Stranger Things came into our lives in all of its 80s glory, it filled a hole we didn't even know we had. Packed with nostalgia, nerdiness, and the emotional tribulations of being a preteen, it was easy to identify and connect with the show—even if it involved dealing with a crisis of a terrifying alternative reality and scary science experiments. If Stranger Things managed to sweep you off your vintage high top Reeboks, here are 5 tees you must own.
Perhaps you never repped your middle school A.V. club shirt with pride when you were young. You can make up for lost time with this Hawking A.V. Club tee—the ultimate way to signal to fellow Stranger Things nerds that you are with them in solidarity.
Growing up, what was a cooler place to be than the local arcade. The Stranger Things crew knew what was up spending their summers there—perhaps owning this t-shirt will inspire you to beat a local prodigy's highscore?
I mean if it's hot enough for Hopper, it's hot enough for you. While Joyce may not have dug the sheriff's look, I for one appreciate the peacocking flare this button up has.
Maybe all the heartfelt moments and loveable characters aren't your favorite part of the show. Perhaps, you're in it for the stranger part of Stranger Things? If that's the case, this Demogorgon tee is totally for you.
Honestly, we've got love for everyone on the show so why not show it off with this simple and stylish letter block tee? Naming all of our favorites (minus Steve, Erica, and Robin) this shirt is a subtle way to rock your unabashed Stranger Things pride.