Smart Home Security Systems to Keep You Safe
Set up these simple-to-use security systems to fortify your home.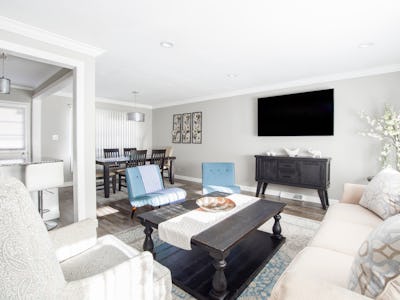 Pexels
It can be a full-time job ensuring your home is kept safe. Luckily, there are plenty of affordable ways you can take matters into your own hands and ensure you have the security you desire. Whether you decide you want a lot of cameras around your home or just a few, there are plenty of brands to choose from to set up yourself that can even work alongside Alexa or your Google Assistant. If you're looking to bypass traditional security companies and go for a more DIY approach, we've got you covered here.
If you've heard of Ring's video doorbell, you might also be familiar with Ring's security system, too. It offers a whole-home security system solution with optional 24/7 professional monitoring for just $10 a month. You can customize it for your liking and includes a base station, contact sensor, motion detector, keypad, and range extender. You can set it up with Alexa and well.
Amazon's security service is based on a 1080p full HD camera that lets you stay connected 24/7 and see what's going on the whole day long. It will notify you when it sees activity, offers two-way audio, and connects to Alexa so you can view older footage, schedule recordings, and choose where you want to view your live feed. There's also the ability to set up notifications to show up as soon as the camera detects movement.
Arlo is a security system with plenty of cameras to put up all over your home, 1080p definition, night vision, and weather-resistant, wireless camera power. You don't have to worry about power cords or wiring, just placing your cameras where you need them most. And while this setup may be a bit more expensive than some of the other security camera sets available to purchase, you're getting what you pay for since Arlo solves many of the camera problems that can plague home security systems.
This HD camera sends you notifications when it detects movement and even lets you filter your videos with people in them utilizing AI person detection. It's truly some next-level stuff here. It also features full 1080p video, the ability to rotate and scan your room with 360-degree horizontal range, and instant alerts sent to your favorite device when something sketchy happens.