We Found These Cool Mens' Shirts for Under $10 a Pop on Amazon
Upgrade your wardrobe with these effortlessly cool shirts.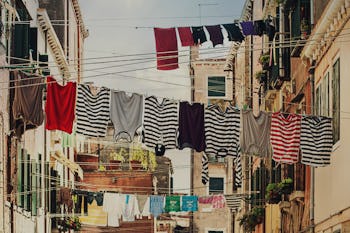 As much as many of us would like to, we can't simply wear the same old T-shirts day in and day out. But what do you do if you have no sense of style? You've got to branch out eventually, that's what. And it's not particularly hard to try to figure out nice-looking clothes to dress yourself in. All you have to do is look around, and make an attempt to find your own sense of style.
That's extremely easy to do with these cool men's shirts from Goodthreads on Amazon. They come in a variety of different colors (mostly plaid) and cost you around $8 apiece. That's under $10 for high-quality woven shirts that you can wear to work, wear while lounging around at home, or even out on a date – maybe you even have plans to go see a movie alone! Whatever you plan on doing, these shirts can take you there in style.
You can build a whole new wardrobe with different colors of these shirts as well, as long as you have a variety of slacks, jeans, and other bottoms to go with them. We're only here to point you to the deals, not coordinate your outfits. You'll have to be on your own for all that, but as far as getting you past stained T-shirts that you're too lazy to change out of, you're definitely welcome for all that.
These shirts come in various sizes, up to 3XL, so no matter what your body type is like, you can grab one of these bad boys and look polished for just about any occasion. Now get out there, snap up a few of these in every hue, and enjoy life as a cool-looking guy who knows exactly what kind of style he's aiming for. You're welcome.