The Best Rated 4K Smart TVs on Amazon
Upgrade your viewing experience with these awesome 4K TV deals.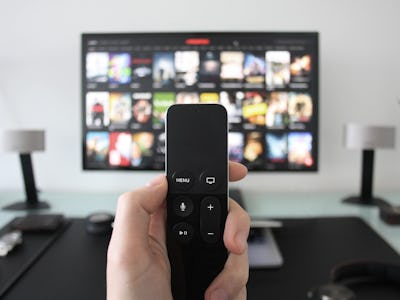 Looking for an easy way to transform your living room into a kitted out, modern entertainment destination with a huge TV that you can enjoy all your favorite shows and more on? Amazon's got your back, with a wide selection of 4K deals you can count on to take your home theater setup from "not" to "hot" in minutes flat. Grab one of these deals to spruce up your living room with one of the best-reviewed models on Amazon.
1.Toshiba 50LF621U19 50-inch 4K Ultra HD
This Toshiba 4K smart TV features a huge 50-inc screen that features 8 million pixels, Alexa compatibility, and a voice-activated remote so you can have your digital Amazon assistant do all the work you don't want to do.It also has built-in apps so you can stream your favorite movies from platforms like Netflix, Hulu, and HBO without having to hook up a Chromecast or Apple TV to do so. It's been praised for its picture quality, simple setup, and great price, especially since it's just a bit above $300, which is an absolute steal for this model.
This budget TCL option gives you an absolutely spectacular TV for the price, and it also happens to be a smart TV. You can go bigger with a 65-inch version, but the 55-inch version comes with a Wi-Fi remote and plenty of reliable functionality, whether you want to kick back and catch up on your favorite shows or get some Victory Royales in with Fortnite. It's a great buy for what you get with some gorgeous HDR effects thrown in. Plus, it's cheap enough that you could pick up two of them and grab one for the kids' room, too.
3. Samsung QN49Q60RAFXZA 49-inch QLED 4K
There's nothing shabby about a QLED TV, and this Samsung model gives you a clear, bright picture for a steal. This particular version of Samsung's Q60 QLED 4K Smart TV includes edge lighting, support for iTunes, and built-in Bixby for the full Samsung experience. There's a lot to love about this firecracker of a panel, especially if it's your first brush with QLED displays. You won't believe the deep, dark blacks and eye-popping colors you get with the picture, which will absolutely make this purchase feel every bit worth the entry price.
4. LG 55UM7300PUA 55-inch 4K UHD Smart TV
Wanting to go incredibly thin with your next TV? Grab this LG model, with integrated LG ThinQ AI tech, which features lavish 4K UHD resolution, a quad-core TV processor to help improve images, reduce motion blur, and enhance sharpness, and built-in Alexa support so you can control all your devices from the same hub you use to turn everything else off and on. Plus, it's got a sturdy stand so you don't have to mount it if you'd rather not. But it's thin enough that it'd be a perfect choice to put up just about anywhere if you're thinking of hanging it – that's one of its charms, after all.