Why the Future of Hollywood Is Latinx
"We have a lot of work to do."
by Adria Arjona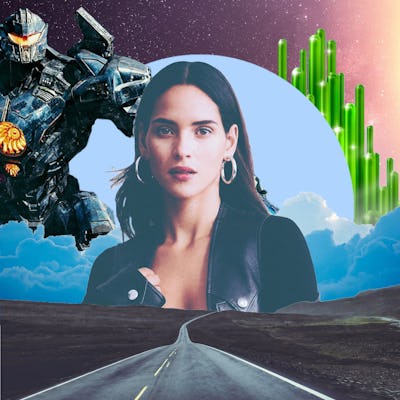 Natasha Chomko, aka POST-WOOK, for Inverse
Every Latin American woman is different, just like how every woman is different. I want to break that stereotype of a Hispanic being this mamacita who oozes sex. Everyone thinks Hispanic, and it's like, Ooh! This Latina with passion!
I would like to change that perception with roles I play, and show people how I'm not like that, because that means others are not as well. Yes, I am very passionate — but I'm also very shy. I am also very conservative in many ways. I'm actually more of an introvert than a lot of people think. That mamacita stereotype is one that I would really like to break. And you can only really do that by telling our stories.
We have a lot of work to do.
I don't think the world has seen even two percent of who we are as a culture and what our history really is like.
We have such strong, powerful women — Puerto Rican political activist Lolita Lebrón, and Rigoberta Menchú, a Guatemalan who won the Nobel Peace Prize, are just two — and not enough people know their stories.
I hope that people can start shifting their perspectives and start looking at us not in a physical way, but get to know each and every one of us. I grew up in Mexico and all over Latin America. In Latin America, it is pretty conservative. People still really live by the Catholic Church. They don't dress like that stereotype. When I moved to America, I was completely in shock.
Coming to America really opened me up as opposed to, and vice versa. In Latin America, we're a lot more shy about that, about sex and sexuality. It's funny how everyone sees us as these sexual beings. It's contradictory.
I want to open people up to listening to our stories. I think the world really wants to hear them. I want to see more multicultural relationships on-screen, because that's what you see when you walk down the street.
You don't see Hispanic-Hispanic. You see Hispanic and Indian, or whatever! That's what you see, a huge mixture.
Sourced from a verbal interview.
Also read: Adria Arjona Is "Done Apologizing" and Wants the Same for Women Everywhere
Adria Arjona is a member of the Inverse Future 50. She stars in Amazon Prime's 'Good Omens', and will star opposite Jared Leto in 'Morbius' in the summer of 2020.