Get the Skills for a Healthy Side Hustle With These Classes
Get paid to do something you really, genuinely enjoy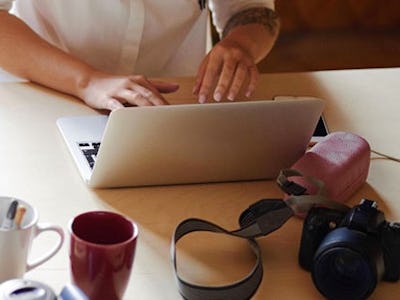 CreativeLive
Who couldn't use more money every month? If you've thought of adding a side hustle but have no interest in driving for Lyft or waiting tables in your free time, maybe there's another way. If you have talent in photography, for instance, maybe you could turn that into an income stream.
CreativeLive offers a variety on video-on-demand classes that cover the skills and knowledge you need to develop a side hustle that highlights your talents and lets you hustle on your own terms.
Once you purchase a class, you get lifetime access to it, so if you need a refresher you can watch a lesson, or all of them, as often as you want. As the saying goes, you need to spend money to make money, and the price tags on these classes are very reasonable.
Wedding Photography
Why We Chose It What's the one event that everyone hires a photographer for? Weddings. If you've got the skills and equipment, being a wedding photographer on weekends is a great side hustle. With these four classes you'll learn everything from lighting and posing shots to how to market your business on social media. One of the included classes, Think Like a $10K Wedding Photographer, focuses on high-end weddings.
Podcasting
promote it.
Why We Chose It If there's a topic you're passionate about, podcasting is a great way to share your expertise with people and possibly make some money. The 12 video lessons in this course cover basics such as finding the right equipment, editing your audio, and growing your audience. There are also lessons on how to monetize your podcast.
If You're a Maker
Why We Chose It If you enjoy making stuff, is there a chance someone would pay for it? In this course, Megan Auman provides a blueprint for figuring out if there's a way to make money from your favorite creative activity. If you can turn your hobby into a side hustle to start with, the class will give you the knowledge you need to keep it growing and possibly become your full-time hustle.
Work at Parties
Why We Chose It Opportunities for being a DJ are everywhere, depending on the style or genre you like. In this class, you'll learn basic music theory, scratching, mixing, and beatmatching. You'll also get an intro into the equipment you'll need to run your side hustle.