How Damon Young Completed the Desperation-Aspiration Equation for VSB
"I'm not getting hired to do anything else, so I might as well just do the thing that I really want to do."
by Damon Young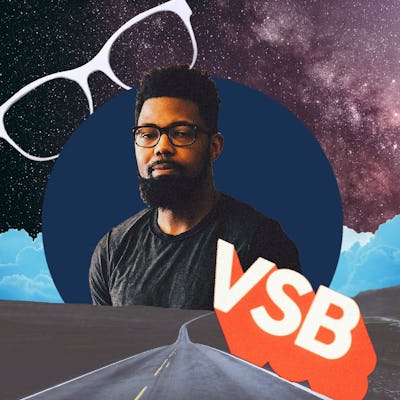 Natasha Chomko, aka POST-WOOK, for Inverse
I can't tell the story of how VSB took off without also providing the context for where I was when VSB started.
We launched VSB in 2008. At the time, I was working at Duquesne University in Pittsburgh, running a program in the school of business there. In 2009, the whole program got shut down. We relied on organizations like the United Way and Pittsburgh Foundation, other foundations and grants, whatever, to keep running. And when the recession hit, those were the first dollars to dry up — the philanthropy dollars.
So I was at a bit of a crossroads. Did I want to continue on in academia and whatever, or did I want to see if I can pursue this writing full time? I went on a couple interviews that didn't pan out, and so I worked on VSB while collecting unemployment.
I think at that time you were able to stay on unemployment for like 100 weeks. I was probably on unemployment for 99 weeks just building VSB and getting better at writing.
In a way, doing what I'm doing now has been an aspiration for some time, but I can't remove desperation from that equation. 
Because I made the decision to do this based off of a feeling of "shit, I don't know if I can do anything else. I'm not getting hired to do anything else, so I might as well just do the thing that I really want to do."
Also read: Damon Young on How to Make It as a Writer in the 2020s: "Move to Pittsburgh"
Whatever ambition that I've had to get better and to build VSB, much of that is due to "shit, I need to do this, I need to get good enough for someone to pay me to write, because if I don't, if I don't get there, how am I going to make rent? How am I going to make my car payments? How am I going to eat? How am I going to go on dates?"
I guess the realization that VSB itself was valuable, and something that could — instead of being a means to an end — but be the end itself came in around 2013, when I applied for a grant and won.
This was the Advancing Black Arts in Pittsburgh grant, and it wasn't just about the money. The process of writing that grant helped me streamline my thoughts and my ambitions and my goals and actually put them on paper. Like "oh, okay, so I have to do this, and I have to talk to this person. I have to do whatever." In getting that grant, I used much of it to transform VSB from a blog with just two guys writing, to more of a digital magazine with blog properties.
At that time, we had a very established sensibility, and we attracted writers who maybe didn't agree with us on everything but had a sheer sensibility.
Some of the writers who have written for VSB were pulled right out of the comments section. It was just like "hey, you should write a thing." One just wrote her first piece for The Atlantic in April.
Sourced from a verbal interview.
Damon Young is a member of the Inverse Future 50.