This Is the Most Comfortable Pet Carrier We've Found
Small Pet Owners Should Check Out This Specially Made Travel Bag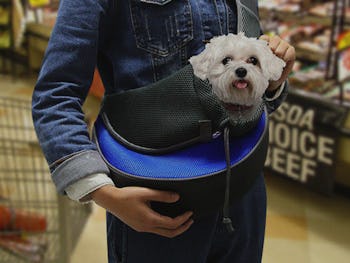 Inverse
The Details:
Wear your small pet with this special carrier.
Over-the-shoulder design for comfort, even on long journeys.
Rugged construction for camping and other adventures.
Perfect for air travel.
Why You Want It: For those of us who don't like to travel without our pets, sometimes a leash doesn't cut it. This small pet carrier slings over the shoulder, providing a safe and comfortable solution for you and your companion. They'll never miss an outing again.
The Deal: With the current discount, practically every small pet owner should consider trying one of these. 44% off gets you what's normally a $39.99 carrier for only $22 out the door at The Inverse Shop. Check it out today.