Forget Ridiculously High End Watches With This Incredible Buy
The best watch we can find for under $1000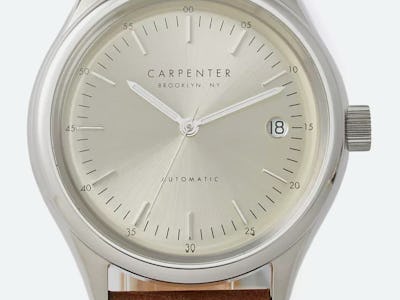 Huckberry
Buying a watch is a complicated process. Price might be the most important factor for some but there are so many other factors to consider. Style, weight, power source, and the list goes on. We found a watch that checks so many boxes and for a lot less than you'd pay for a watch like Omega, Tag Hauer and, of course, Rolex.
The Brooklyn Gent by Carpenter Watches might be the best value you can find under $1000. Probably it's most important feature is the versatility of the it's design. Carpenter set out to make a modern watch with a vintage feel. This means whether you're going to a business lunch or a ball game you're styled properly for this watch. And if you're going to spend more than $500 on a watch you should want one that you can take with you anywhere.
While it's actual price ($724) might seem on the higher end, the construction of this watch more than justifies it's price tag. From its leather strap to sapphire background and stainless steel construction this is built from top to bottom with the high end materials you'd expect in a watch.
And we wouldn't want you dropping a dollar on a watch we didn't believe could be durable and long lasting for you. The Brooklyn Gent is powered by the movement of your rest. As long as you're in motion the watch will work and if that's not enough it has got a 38 hour power reserve so you're you're like to keep time for a long time.
This watch is a limited run so waiting means you won't be able to buy it later.