The Perfect Jacket for Winter Is Selling Out Fast
A classic coat with a modern spin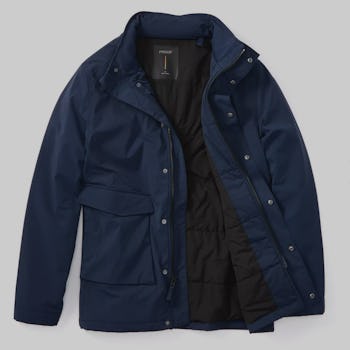 Huckberry
A coat that is warm and functional is so hard to pull off. That why it took the bright minds of the US Military to construct the perfect jacket for both.
The M65 Field Jacket is a classic design 53 years old. Proof's Navy Field Jacket is a modern twist on the famous coat that brings everything you love about this jacket updated for 2018.
The jacket is constructed with a water resistant nylon coating and a hood that zips away so you can hide it when you're not using it. This jacket also features five classic pockets plus a secret stash pocket for your phone.
The zipper on this jacket comes right below the belly button so that you have maximum range of moment. In both green and navy it's got the classic look you'd expect from the coat.
This jacket is also made for the winter. It's been literally battle tested over time and across a wide array of locations and at each turn this jacket has lived up to the hype and survived the brutal conditions.
Its classic look also means that you can wear and pair it with just about anything. It's the ultimate in an all-purpose coat. If you're not already sold then the price should do the trick. With the look and build of designer jackets that are usually multiple times this price, you're getting a seriously good deal.