This Beautiful Chronograph Watch Is an Amazing Early Black Friday Deal
We've selected a great one so you can stop shopping around.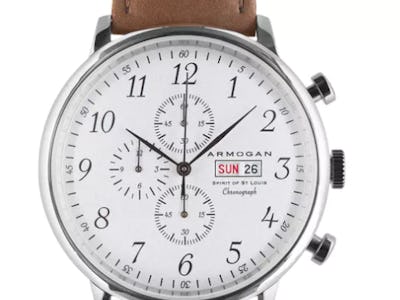 Huckberry
There might be nothing better than a beautiful Chronograph watch. After all, it's a classic design of a wristwatch combined with a stop watch. First invented in 1816 it's been around for over 200 years. Leave it to a company that's been around less than five to create a Chronograph worthy of this article.
The Armogan St. Louis Chronograph gets its name from Charles Lindberg's New York - Paris flight. This watch is everything you want from a design that is as classic as watches themselves are:
It's got a soft leather band which makes it not only stylish but adaptable. This isn't a watch for suits or jeans, it's a watch for any occasion.
It's got a slim case design. That means that it's never going to feel like you're dragging a kitchen clock around with you. It'll be a highlight but not the centerpiece of your look.
It's also durable. It's water resistant, with a five year watch battery and a two year warranty you're looking at a watch that's going to be well worth the price you spend.
If price matters to you then this might be the best part. While it normally retails at $225.00 you can now get this beautiful watch on sale for 20% off. That means this piece will run you under $200 dollars.
You don't have to spend a fortune on a nice looking watch and the Armogan St. Louis Chronograph is proof of that.