10 Kitchen Gadgets On Everyone's Black Friday List
What you make in your kitchen sustains you, bring in gadgets that lubricate all aspects of kitchen life.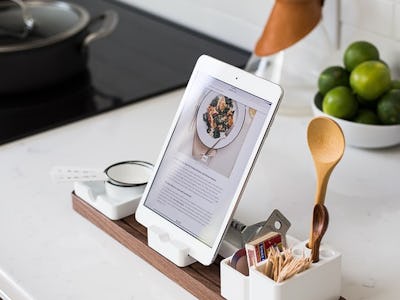 Pixabay
The kitchen is the heart of the home. Whether your kitchen is just a place for brewing coffee and drinking water, or you painstakingly prepare scratchmade meals on a regular basis, this fact remains true. There are certain elements to a kitchen you need to make it a home, but to incentivize the less-than-likely kitchen user to learn all the space has to offer, there are kitchen gadgets you can buy that will ultimately save you money in the longrun—like a high tech coffee kettle that rivals the coffee shop it's too cold to trek too right now.
Kitchens purchases are also more-than-likely to be lifetime purchases, especially if regular cooking is something you do begrudgingly. So it's healthy to think of any and all kitchen purchases as one-time gifts you give yourself over and over again. But if you're a hobby cook or just very good at trying not too overdo your spending by eating out all the time, you're already picking up what I'm putting down.
Let's delve into the 10 essential buys you need to make for your kitchen—and for yourself.
Material The 3-Knife + Stand Set
Why We Think You Need It: There is no substitute for good knives. You'll waste more time and risk more injury with cheap, unsharpened knives than you ever will with one or two knives that you never dishwash. But it can be kind of difficult to store knives that you are readily reaching for and space can be an issue. Material's answer to knife storage issues is their specialty designed walnut storage base with uniquely designed slots made to stylishly hold and display your new knife set. Complete with three essential knives, this set is a great answer to the less-than-good knife sets that often come with steak knives you never use. With an 8-inch chef's knife, a 6-inch serrated knife and an "almost" 4-inch paring knife, you have everything you need right in this stylish set.
Price: Usually $200, on sale for $169.98
UBi-IND Pan Handle Holder
Why We Think You Need It: It's no secret that cast iron is in and that stainless steel frying pans are better than the competition. But if these are items you already own, you also know that their handles get too hot to handle fast, especially if you are inclined to move from stove to oven. It can be annoying to maneuver traditional flat pot holders and you know as well as I do that dish towels aren't always the best answer either. The UBi-IND Pan Handle Holder is stylish, easy to tuck in a drawer for safe keeping and your hands will thank you.
Price: $15
Fellow Stagg XF Pour Over Set
Why We Think You Need It: This is a french press you can drink from. Minimize time and dishes by brewing your single cup of coffee directly into the insulated and double walled, heat resistant glass carafe of this pour over set. Featuring a no-clog drainage system for consistent drip duration every time, you don't have to worry about variance in your brew. The carafe has lines for measuring water exactly every time and the Stagg dripper is vacuum insulated for better heat retention with every brew.
Price: Usually $99, now on sale for $84.98
Farmhouse Pottery Live Edge Walnut Cutting Board
Why We Think You Need It: Cutting boards might be one of the most difficult elements in all the kitchen to find a good storage place for and more often than not, out of convenience, they just get left out on the counter. Leave your cutting board out on the counter with style once you buy this gorgeous item. And when you're not using it as a cutting board, make delicious charcuterie and cheese trays with this rustic backdrop.
Price: Usually $50, now on sale $44.98
Meater Meater+ Wireless Thermometer
Why We Think You Need It: There is nothing more disappointing than picking out the perfect piece of meat at the butcher only to bring it home and slightly overcook it. Meet the Meater Meater+ Wireless Thermometer. Place the wireless thermometer in whatever you are cooking, open the intuitive app and walk away. Tend to your guests, relax. This thermometer will send updates and notifications via Bluetooth to your phone telling you exactly what to do at any given time, making it the perfect sous chef and companion. And with 24 hours of continuous cooking time, this isn't a device you have to fear will be dead the next time you reach for it… unless you are inclined to cook for an entire 24 hours.
Price: $99
Secura Stainless Steel French Press Coffee Maker
Why We Think You Need It: Not all people drink just one cup of coffee and some people live in multi-person households. Unlike the other coffee maker on this list, the Secura Stainless Steel Franch Press makes enough for at least two people to enjoy a little more than pint of coffee each. If pour over is not your cup of tea, opt for this sleek option that will make any countertop look Instagram-curated.
Price: $29.98
Magic Bullet Blender, Small, 11-Piece Set
Why We Think You Need It: If you've been conscious at any point in the last 12 or so years, you know about the Magic Bullet. If for whatever reason you don't already own a blender or the blender you took from your mother's house just isn't that great, there really isn't a better multi-tasker than the Magic Bullet. Complete with chopping, blending and whipping attachments, prepare any intricate meal with just the push of a button. All parts are dishwasher safe to make for easy clean up as well as its small stature being convenient for out-of-sight storage.
Price: Usually $39.99, now on sale $31.90
KitchenIQ 5009 Edge Grip 2 Stage Knife Sharpener
Why We Think You Need It: Pair this with the purchase of your new knives! There is no substitute for a good knife sharpener. Where you can find more affordable options in knives at any big box store, they're never going to work long term if you do not also buy and use a knife sharpener. Use this palm sized gadget to keep all your knives in better-than new condition with the coarse blade and patented Edge Grip that allows you to sharpen without fear of slipping.
Price: $5.50
Lodge 10.25 Inch Cast Iron Skillet, Pre-Seasoned
Why We Think You Need It: It's no secret that I am hoping you are enticed to buy more than one item from this list, and if I have anything to do with it, I hope this cast iron skillet is one of them. Lodge is the leader in affordable cast iron and as long as you take the necessary precautions to preserve it, their skillets will more than pay for themselves in just a year of use—but you'll likely be willing them to the next generation, anyway.
Price: Usually $26.68, now on sale for $11.92
Ninja Professional 72 Oz Counter Blender
Why We Think You Need It: Everyone's all about the Vitamix blender as the best possible blender money can buy, but take it from a chef's daughter, the Ninja blender is just as good at a fraction of the cost. It has incredible volume so making smoothies for an entire gaggle of children or hungry men is a breeze. And if you've ever owned a bad blender, you know that not all blenders can crush ice with ease but this one can.
Price: Usually $89.99, now on sale $66.49