This All-in-One Bag is The Perfect Travel Companion
If every time you travel you struggle to find the right bag for your precious belongings, look no further.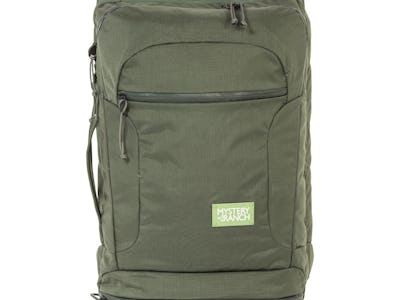 Huckberry
Anyone who has ever traveled anywhere knows how difficult it can be to find the right bag for the job. Spending the weekend at the beach? Should you take your carry on wheelie suitcase? Going straight to the gym from the office? Should you take your overnight bag? Going camping for the first time in years? Do you invest in a brand new hiking backpack you may never use again? Spending more time at your partner's apartment than your own? What do you do? How do you stay organized in the midst of chaos?
Mystery Ranch has the answer. Enter the Mystery Ranch Mission Rover Travel Backpack. Made for carrying a lot or a little, this bag is the perfect carry-on, over night bag, or hiking backpack plus so much more.
If you've ever traveled anywhere for any length of time, you know the biggest struggles of packing and unpacking come from your now-dirty laundry and your shoes that take up way too much space. The Mission Rover's answer to that is the specially isolated shoe and dirty laundry compartment.
As I channel Billy Mays through writing, "But wait, there's more!" Just like your hardshell luggage, the Mission Rover Travel Backpack has internal mesh compartments for distinctly separate toiletries, underwear and socks—at least that's what I use that compartment for. Unlike other kinds of backpacks, all you have to do is unzip it and everything has a place. Open it all the way up with its unique clam shell zipper and everything is flatlayed for perfectly convenient access to essentials. But that's not where the organization ends in this innovative design.
There are pockets within the bigger pockets with built-in dividers so you can have your outfits, electronic cords and travel snacks available without the inconvenience of feeling for them in the darkness of another backpack.
But there is still more. Like many other kinds of backpacks, this pack features a smaller zipper pouch on the front for storing documents or headphones that may need to be reached at any point throughout travel. And if you, like me, cannot sit in an airport, bus terminal or train station without pulling out your laptop to check your emails, watch a quick viral video or reject the 15 random Linkedin requests, you'll love the padded laptop sleeve that allows you to keep your laptop case at home while still resting assured that you won't be out $1,500 by the end of your trip.
And the final piece of this delicious conglomeration of everything you will ever need in a backpack is the option to carry it 3 different ways to give your muscles a break as they need it. Carry it as a suitcase, sling it over your shoulder messenger bag style or wear it as a regular backpack.