A Backpack That's Built to Last and Worth the Money
Evergood's CPL 24 backpack gets tested and reviewed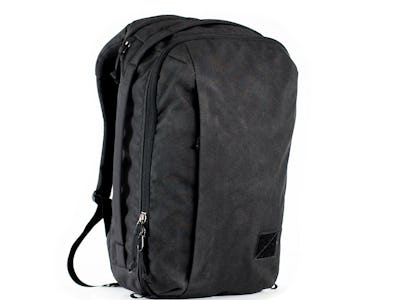 Huckberry.com
This product was tested and reviewed by the author.
Item: Evergood CPL 24 Backpack in Black
Price: $229.00
Best Features:
Sternum strap (removable)
Dedicated, fully padded laptop compartment fits laptops up to 15"
Side handle and top handle for alternate carry options
Biggest Pluses:
There's a lot to like about this bag. It's durable for starters. You can feel it in the texture of the bag. It's got a nylon finish that is water resistant. It's built to last and good for a commuter who wants a backpack that can stand the weather and a lifestyle on the go.
To go along with the durability is the padding and storage space. There's an easy access compartment on the front of the backpack good for frequently used items like keys, sunglasses and cords, and inside the main storage compartment there's several pockets that will store external drives, chargers and various small items. There's no question that Evergoods thought about the organization of your bag when thinking about design.
The sternum strap was surprisingly the best feature of the bag. A lot of backpacks have the comfortable straps but feel like they are going to fall off when you're walking so you spend time constantly adjusting the straps. This was different. The sternum straps goes on and the bag stays. No playing with the straps.
Is It Worth The Money?
$229 dollars isn't cheap but given the durability of this bag there's no question it'll last. If you're looking for something that leads with style then there're bags (albeit probably more expensive) that are probably more your taste. Here's a couple you could consider. However, if you're looking for a bag that can take the abuse of constant use and won't wear out on you in a couple of years then this is a great bet.