Signing Up for Loot Crate Has Never Been Cheaper
The best comics and gaming merch at 33% off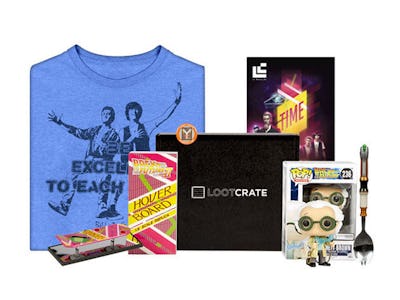 Stack Commerce
The Details:
Get a surprising selection of gaming and geek-related merchandise every month for 3 months. Every crate also has a t-shirt thrown in for good measure.
Discover brands and goods you never knew existed, hand-picked by a dedicated team.
Join a special nerd culture community and share your experiences with each Loot Crate every month.
Why You Want It: Gaming and comics culture nerds generally love their collectibles but finding merchandise that's compelling can be expensive and time-consuming. This subscription gives you a surprise box of hand-picked goodies every month, including toys, clothing, and other gear. Each month is also based around a specific theme, like "Mayhem," adding to the exclusive flair of the Loot Crate.
The Deal: $45.90 is a steal for a 3-month subscription to exclusive merchandise to fill the empty space before and after Comic-Con. This price comes to you via a 33%-off special.
Loot Crate: 3-Month Subscription - $45.90See Deal