Why Men Are Realizing That Smelling Like a Desert Rose Isn't Half Bad
It might even be pleasant.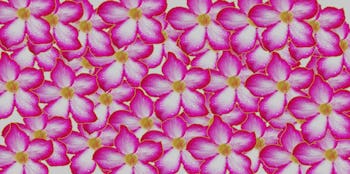 It's 2018, and you might be wondering:
Is it alright for men to smell like rosemary and heather growing amongst dry wood in the sunny, Garrigues region of France?
Yes, it is.
What about a blend of freshly cut iris, pink peppercorn, and a stone heating in the sun?
Totally fine.
OK, how about a bright orange blossom that just weathered a hard rain and cedar felled from the shores of Corsica?
In fact, yes — but why not add a touch of bergamot?
If recent growth in the men's fragrance industry is any indication, it is increasingly the norm for men to smell pleasant.
Expected to reach $18.7 billion by 2020, this industry is climbing from $14.8 billion in 2015, according to a study by London-based industry researcher Euromonitor. This reflects the broader rise of the men's grooming industry, which includes shaving products, fragrances, and toiletries. Men are now more invested in personal upkeep than ever, which is good news for all, but especially for the fragrance business.
The week before Christmas each year sees a dramatic spike in Google searches for "men's cologne," but it's quickly becoming a year-round fascination year-over-year.
The growth of the men's fragrance industry is partially indicative of changing gender norms, where men are granted more aesthetic freedom and fluidity.
"Men are more comfortable expressing themselves these days," fragrance historian and master perfumer Roja Dove tells Inverse. "The way we smell is an extension of our sense of style, so as men have become more self-aware of how they present themselves, fragrance is another thing that has become more commonplace as a result."
"The way we smell is an extension of our sense of style."
It's not only that the men's fragrance industry is growing, but the range of scents that are considered "masculine" or within the realm of men's fragrance are also expanding. Men, by today's standards, need not have a cloud of Axe trailing them at all hours, or feign disinterest in fragrance.
"As men have become more comfortable with the concept of scent, it has allowed the male perfume market to evolve into something more diverse. Perfumers are more open to delivering compositions that are more unique, such as a bigger embrace of the use of flowers in masculine compositions," Dove tells Inverse.
Just a couple decades ago, men were not allowed to stray too far from smelling like the ocean, lest they pose a peril to their masculinity.
As Dove discusses in his article, "Why All Men Smell The Same, According to Master Perfumer Roja Dove," beginning in the '90s, men's fragrance tended to be dominated by an oceanic smell that is "actually calone — an aqueous-smelling material with a pronounced watermelon aspect. It's a man-made, synthetic molecule that gives the olfactory impression of the fresh seashore through its marine/ozone nuances."
While decoupling fragrance and gender may seem like a modern idea, art historian Jessica Murphy points out that it is really an old idea.
For the majority of it history, fragrance has known no gender. She sees the industrial revolution and resulting commercialization of fragrance as the period when it came to be partitioned into two genders. Before this time, fragrance was lawless — the scent of a rose or a strong musk was open to all.
Even cologne, as it was originally conceived, was intended for and worn by all genders. As the story goes, in 1708, when Giovanni Maria Farina concocted the refreshing, quickly evaporating scent, he wrote to his brother: "I have found a fragrance that reminds me of an Italian spring morning, of mountain daffodils and orange blossoms after the rain." He named the fragrance Eau de Cologne, after the German city where he was working.
It was only later that what began as mountain daffodils and orange blossoms lost its more floral origins and came to signify masculinity. Murphy notes that the fragrance was then widely copied and for a long time Eau de Cologne meant a citrus herbal splash with a lighter concentration of oils. For reasons that she does not believe have been well-established, it then evolved to stand in for men's fragrance.
Now the western fragrance industry is in many ways returning to an earlier time in history. This shift is largely owed to niche perfumers, outside of the mainstream industry, who have been on the frontline of shaping this move away from strictly gendered fragrances. "[Niche perfumers] were not creating for men or women, but just creating beautiful fragrances," Sandy Blandin, founder of the fragrance studio Nose Who Knows, tells Inverse
The niche perfume industry has heralded the growth of a new, shamelessly rose and heather-scented man. "The men who are wearing fragrances today I think they are different from the men who were wearing fragrances years ago. […] They want to stand out. They're a bit more assertive, in terms of what they like and what they don't like," says Blandin.
Niche perfumers were among the first to embrace unisex fragrances, which are now a quickly growing trend as well. Some of these independent perfumers have been creating fragrances that are intentionally deconstructed, a smell removed from any gendered connotations.
For example, Christopher Brosius, one of the most revered iconoclasts of smell, does not use any gendered language with his fragrances. He instead opts for scents are deeply conceptual, capturing something more psychological than material, like "Where We Are There Is No Here," "November," and the E. M. Forster-inspired, "A Room With A View."
Zoe Tambling, who is soon to launch her own perfume line, Agnes Fragrances, in Los Angeles, spent five months developing the scent of a Hurricane — of lightning, of rain on concrete. At one point, it hit her that rain on concrete smells like bell peppers, which she then tinctured and added to the fragrance.
Her earlier creation, Stainless Steel, which she colored blue to resemble Windex, is not only outside of gender, but outside of anything remotely human.
"I wanted to make something that was totally cold and unfeeling," she tells Inverse.
Blandin hopes that in the future, the men's and women's fragrance are eclipsed by unisex fragrances, so that nothing has a gender.
"For me, what I would love to see is that we don't have any more men and women's fragrances. Let the people choose what they would like. Let the people whether they want a vanilla, a raspberry, a citrus, and don't segment the market into men and women."
If current trends keep up, Blandin might just get her wish, and rose and musk will be, once again, in the domain of all genders.
Sign up for Inverse Sunday Edition, a weekly collection of our best feature stories.