How James Wong Howe Used Light to Revolutionize Silent Films
The director of photography defined the most stylish elements of film noire.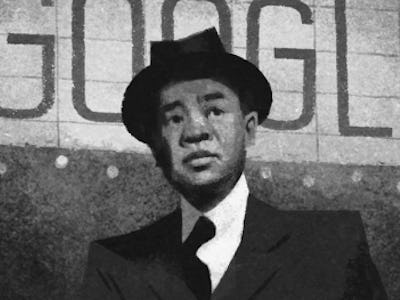 On Friday, Google celebrated the life of James Wong Howe, the famous cinematographer whose innovative techniques in the 1940s and 1950s made him a visionary leader in the cinematic arts. A Google Doodle depicting him in a dark suit and fedora is especially suitable because the date also commemorates the release of one of his most notable works, the 1934 mystery The Thin Man.
It was Howe's uncanny ability to use light in still photography that actually propelled him into the world of film. Obsesses with photography since a teen, Howe originally landed a gig as camera assistant to the legendary director Cecil B. DeMille, and took publicity stills on the side. One of these stills, of actress Mary Miles Minter, blew the actress away because Howe had managed to make her eyes look darker by getting her to look at a black velvet surface. The actress had pale blue eyes, and because of the quality of film of that time, she appeared expressionless.
Minter request Howe as the director of photography on her next feature film, where he applied this technique to silent films, by mounting his camera frame with black velvet, which would darken the actors' eyes. He worked his way up from there.
Howe was known for his use of deep shadows and dramatic lighting, which exemplified much of the film noir genre.
According to IMDB, in the 1930s Howe was one of the first directors of photography to employ deep-focus techniques; in which the foreground, middle ground, and far background objects are all in focus. It involves flooding the set with bright light and narrowing the aperture of the camera lens.
Howe shot a prolific number of films, including The Trail of the Lonesome Pine, Algiers, Yankee Doodle Dandy, The Rose Tattoo and The Sweet Smell of Success. He died on July 12, 1976.