Mitt Romney Becomes a Meme After Taunting Russell Westbrook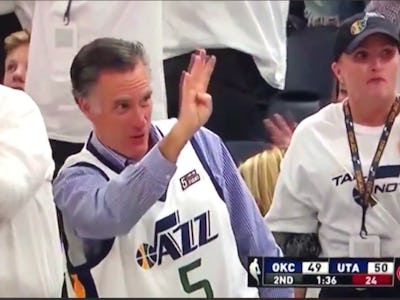 TNT
The NBA playoffs are heating up, and even former presidential nominee Mitt Romney is feeling the spirit of the game. Romney, who's running for Senate in the Jazz's home state of Utah, sat courtside at the Jazz versus Oklahoma City Thunder game on Monday evening. From there, the former Massachusetts governor did not hold back, cheering on the Jazz in his team jersey over a blue dress shirt.
At one point, the cameras caught Romney heckling Thunder point guard Russell Westbrook after the player received his fourth foul right before halftime. "Four! That's four!" Romney appeared to yell at Westbrook, seemingly noting the fouls the NBA MVP received while holding four fingers up. Romney's hilarious taunting ended up catching Twitter's attention, and of course, and the memes ensued:
The Senate hopeful even got compared to rapper Drake for the rapper's own courtside manner:
Some even mocked his failure to elected as president:
But best of all, his "Dad" look got both laughs and admirations for the Twitterati:
The Utah Jazz are due to play the Thunder again on Wednesday night. They are currently leading Oklahoma City 3-1 in the series, which likely has Jazz-enthusiasts — including Romney — giddy with excitement.