How this New App Helps Give You Net Neutrality
Get your money back if your provider fails the speed test.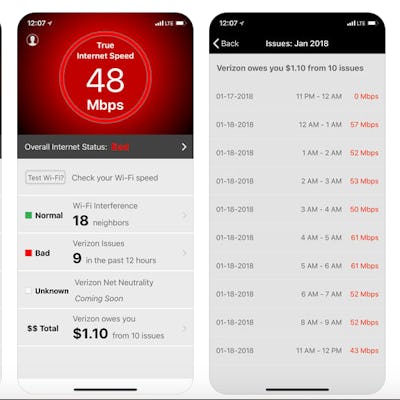 SpeedPact
A newly-launched app called SpeedPact aims to test and monitor your internet service provider (ISP's) speed and efficiency.
Amid recent rulings over net neutrality, the tech industry has been producing services to combat consumers' fears of a potential internet slowdown. SpeedPact could be the perfect way for internet consumers to channel their frustration with service providers, which are monopolized by large conglomerates like Verizon and Time Warner.
SpeedPact founder Art Claybon tells Inverse the app is beta testing in New York City and is expected to launch sometime in the next few months.
"SpeedPact ensures that customers get the true speed of internet without any censoring from ISPs," Claybon explains.
The app helps test three things: the speed of the internet coming into the home, any WiFi interference occurring, and of course net neutrality violations by ISPs.
"It does these checks passively without intruding the users' time," Claybon says.
The app works by testing, on a daily basis, a random popular site like Netflix, Amazon, YouTube, and about a dozen others, then comparing your speed to the speed received by other SpeedPact users in your area. "If your speed is much slower than your neighbor's, the app flags this as a net neutrality violation," according to SpeedPact's mission to users.
Despite one of its flagship features championing net neutrality, SpeedPact didn't start out on a mission to solve a politically charged tech issue.
"I'm a hardware engineer by education and spent years designing computer chips," Claybon says, explaining why he decided to found the chip-integrated service. "The reason I created SpeedPact is because I realized there is no way to truly test your internet speed and quality independently."
If you ever find your internet connection has randomly slowed down, that's not coincidence, Claybon says. Given that mainstream ISPs have been known to be ambiguous about signal issues, like why your Netflix stream is suddenly lagging, this is no surprise.
In fact, New York state itself has run into internet speed issues over the years. As recently as 2015, state Attorney General Eric Schneiderman had launched an investigation to probe local ISPs' advertised service speed.
"New Yorkers deserve the Internet speeds they pay for," Schneiderman said during the investigation's launch. "But, it turns out, many of us may be paying for one thing, and getting another."
At this point it's clear to many Americans that ISPs are profitable businesses, and ultimately aren't obligated to provide customers with their backend internet speed reports.
"There is no way for you as the consumer to know your signal's true speed, because you have to take the provider's word for it," Claybon says.
The best part of SpeedPact is the money refund potential, of course. The app tracks and displays how much you're paying, and calculates how much your provider owe you if your internet isn't up to your plan's speed.
From there, it typically only takes a couple of phone calls to stop getting bad internet. Suspicious, but true.
"The reason we use microchip integration with the app is because having the hardware device is the only true way to help with the issue," the founder explains. Thankfully, SpeedPact hasn't found any net neutrality violations during its beta tests of hundreds of internet connections.
"Eventually, I'd like to shift our business model to rely on a cut from the refunds users receive from their providers," Claybon says, as opposed to charging SpeedPact users a fee to use the service.
The app is currently available on the Apple App Store, but the hardware is offered as part of the SpeedPact beta test.