Tinder Usage Snowballs at Winter Olympics, According to App
The Olympic Village is a horny place.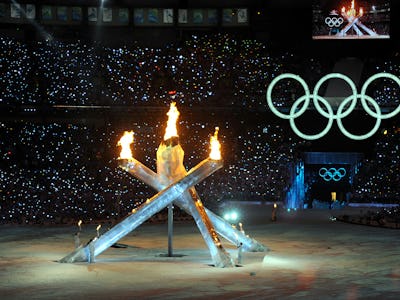 Wikimedia Commons
Young Olympians at the 2018 games are finding ways to fill their downtime after their respective events. With Tinder, of course.
Olympians and game attendees are swiping so much, the company confirms to Inverse it saw Tinder activity in Pyeongchang, South Korea spike a whopping 348 percent since the games began.
"From Sochi to Rio, Tinder has a history of heating up the Olympic Games, so its popularity in the village this year is no surprise," Rosette Pambakian, Head of Brand at Tinder, tells Inverse. "At the same time, we're still blown away by the huge numbers in Pyeongchang."
With so many young, in shape people concentrated into one city for a limited time, the hookups were bound to happen.
Meanwhile, dating app Bumble goes into even more details when it comes to Olympic online dating. According to the app, it saw a 50 percent jump in activity, with alpine skiers apparently getting the most action. Next up were hockey players, with freestyle skiers and cross-country skiers tying for the er, bronze when it comes to hooking up in Pyeongchang.
It's not just dating apps that are being utilized to scratch the athletes' itch during the winter games.
Porn site PornHub says it's seeing a rise in viewers at the Olympic village. Apparently PornHub's traffic in the region saw an 85 percent increase at the start of the games. This is being attributed to an influx of Olympic attendees in the area, of course. At the same time, Pornhub also says searches on its site containing "Olympic" and "Olympics" grew by up to 561 percent compared to average levels.
A rise in sex drive among athletes during the Olympics is nothing new. It seems reports of hookups surface every two years, when the games occur. For example, tinder usage also rose during the 2016 Summer Olympics in Rio, Brazil.
Now that most athletes have completed their events, the surge in hookup activity and online swiping is expected to continue at an even higher rate as the Olympic closing ceremony approaches.