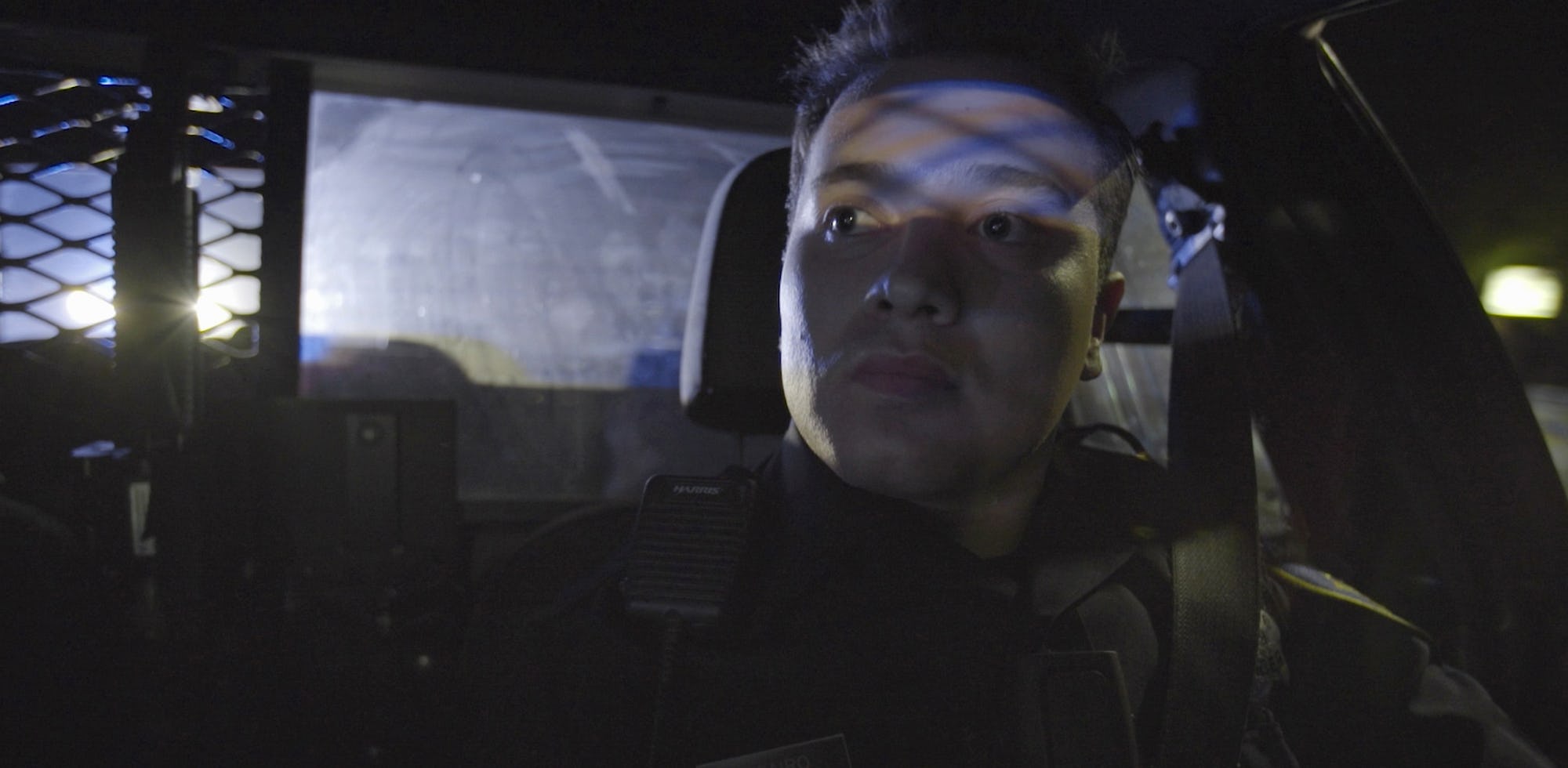 Culture
In 'The Force', The Eye of Surveillance is Pointed at the Police
Documentary follows the Oakland Police Department as body cams become the norm. 
Kino Lorber
Peter Nicks says that his newest film, The Force, asks you to hold multiple truths at once. Considering the documentary's subject matter is the police, it's a big ask.
Accepting multiple interpretations of the truth has not been America's strong suite as of late. When it comes to the role of police, we're especially divided.
Initially, The Force depicts a police department trying to make up for past mistakes. Following a civil-rights lawsuit stemming from an excessive force scandal in 2003, Oakland's police department went under federal oversight and began integrating better, progressive police training. But it's still a police force — an understaffed one at that — in a city with high crime rates and a community whose anger around police brutality is becoming a movement: Black Lives Matter.
This is the moment into which Nicks's camera lands in 2014, following new cops through academy training to the street. "We give you the context of what the police see everyday, how they face this constant drumbeat of violence," Nicks tells Inverse.
What we also see is a community that's being underserved by those same police. In one scene, Police Chief Sean Whent tells a community meeting that the Oakland PD simply don't have the resources to respond quickly to non-violent crimes like burglaries or vandalism. At the same time, the deaths of young black men at the hands of the police around the country are fuelling frustrations in Oakland, a city with a rich history of Black activism.
This isn't Nicks's first time depicting the interactions between systems of power, race and poverty. An Oakland resident himself, Nicks's 2012 documentary, The Waiting Room followed the daily lives of health care staff in an Oakland emergency room, where many of the incoming patients are uninsured. The Force is the second in a series of three. "Thats why we're doing the trilogy; it's not just one film, we're trying to examine all these institutions," he says. "Really it's about poverty."
While the camera tries to remain neutral, Nicks is aware that it's not so easy for the viewer. "If you come into that film really wanting change around accountability, like cops not being held accountable for the injustices unfolding on our Facebook feeds, it's going to be harder for you to hold a sympathetic view (of cops)," Nicks says.
Between reform and rage, The Force attempts to portray multiple truths through multiple lenses. In between following cops through their day to day lives, montages of news footage and Youtube clips blend together to show how Black Lives Matter is gaining momentum out in the streets.
When Nicks began shooting, the Oakland PD had also just introduced a new mechanism for change: body cams. "Whether it's our camera, a body camera, a civilian's cell phone, a news camera, there are so many different points of view, and positions on reality and the truth," Nicks says. "My intent was to capture that and give each of those points of view a validity."
Body cams have become a near-ubiquitous utility in big city police departments, but back in 2014, Oakland was the first to try them. The technology is meant to shift some of the surveillance onto the police, in the hopes that it will encourage better behavior, and provide a document for transparency. But in an extremely poignant part of The Force, the technology actually ends up showing us how deeply ingrained our biases are — and why.
When a man that ran from police is found dead — on body cam footage — having suffocated between two buildings, the footage is released to the public in an attempt at transparency. But it does little to ease the suspicions and anger of family and community members.
"If a family doesn't trust the body cam, and the police are saying, 'He fell down in between the buildings, and we found him, and he suffocated,' and the family is like, 'I don't believe that. You deleted some footage,' — we don't want those people to seem paranoid," Nicks says.
"Part of what didn't make them not seem paranoid is that several scenes earlier you had seen (local activist) Pastor McBride talking about history, talking about slave patrols, talking about the narrative that people share and have experienced within the African American community that have set the table for this distrust."
Any momentum gained by the department's efforts seems to disappear in the blink of an eye when a corruption scandal suddenly erupts within the department. Nicks's film takes an abrupt turn, as we see how the force mishandles investigating the charge that multiple police engaged in sex trafficking with an underage prostitute.
As dispiriting as it may be, the best depiction of the Oakland PD is a complicated one, pieced together through many lenses and many voices. In an age where nobody seems to believe what they see, perhaps the more vantage points the better.
The Force is available on iTunes, Amazon Video, Google Play and Vudu on December 12.