How to Get Your Volkswagen Settlement Money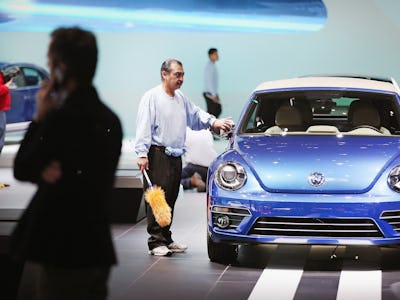 Getty Images / Scott Olson
You've probably heard by now that Volkswagen had arguably the worst day in the company's history on Tuesday. The plus side? It was a sign of good days to come for the nearly 500,000 Americans who own diesel TDI Volkswagens.
Volkswagen will pay around $15 billion in fines and settlements for cheating on emission scandals, and around $10 billion of that will be dedicated to vehicle buy-backs and fixes. If you purchased one of the following cars before September 18, 2015, some of that money could go to you:
2009-2014 Jetta SportWagen
2013-2015 VW Beetle and Beetle Convertible
2010-2013 and the 2015 Audi A3
Volkswagen has set up a website for owners to figure out the exact amount they are owed. The website has the legal documents of the settlement available to view, as well as a tool to look up by vehicles by VIN number to see which qualify, and exactly how much that vehicle is worth.
Claim options for owners and lessees
Owners have the option to either sell their car back to Volkswagen for a cash payment equal to the value of the car according to the September 2015 Clean Trade Vehicle Value and a restitution payment, or keep their car and get a free emissions modification and a restitution payment.
If an owner decides to sell the car back, the car's mileage also factors into the buy back price. For example, the owner of a VW Beetle Convertible TDI could get between $27,937 and $33,835 if the owner decides to sell the vehicle back to Volkswagen. If the owner decides to keep the car, she is eligible for a free modification and a restitution payment between $7,145 and $8,128. The price range for each year and model can be found on this settlement chart.
Keeping the car for a free modification and a restitution payment will only be available if Volkswagen is able to create a modification that is approved by the EPA and CARB. The minimum amount an owner will receive is $5,100. The full buy-back amount will be paid by Volkswagen if it cannot invent a modification approved by the EPA and CARB.
Lessees are eligible for 10 percent of the vehicle's base value plus $1,529. If the lease is active and the lessee wants to end it, Volkswagen will pay all penalties and termination fees.
If you previously owned one of the vehicles but sold it, you may still be available for restitution if you qualify for a settlement.
How to submit a claim
All claims must be submitted by September 1, 2018.
The first step to submitting a claim is figuring out how much Volkswagen owes you for your specific vehicle. Volkswagen will send information to users, but it can also be found by entering the vehicle's VIN number on the Settlement Website or by calling 1-844-982-5246.
Claims can be submitted online, by fax (1-248-754-6602), or by mail (VW Court Settlement Claims Processing, P.O. Box 214500, Auburn Hills, MI, 48326).
Once a claim is submitted, it goes through an approval process and a formal offer is sent to claimants. Claimants can then pick which restitution she wants (buy back or modification and payment) and submit the form online or through snail mail by September 1, 2018.
Current owners will be notified of the nearest Volkswagen or Audi dealership for the buy-back or modification and the dates the claimant can schedule an appointment. All restitution appointments must be made by December 30, 2018. The payment will come via online money transfer or by check.
More information can be found on the Class Claims Program and Administration document.
Additional state-by-state settlements
Washington D.C., Puerto Rico, and 44 other states sued Volkswagen separately. Around $600 million will go to settlements with those states and territories, and the total amount varies by location.
In Illinois, for example, Attorney General Lisa Madigan said an additional $29 million will be paid by Volkswagen for violated state law, the Associated Press reports. Oregon will get some $85 million, and Alaska will get $2.5 million.
The state-by-state settlements vary depending on how many people in the area own the affected vehicles.
Regardless, if you own a diesel Volkswagen, you stand to make a fair amount of money by the end of 2018.