Lumosity Has to Pay $2 Million for Lying About Its Junk-Science Brain Games
Company is slammed for preying on fears of 'age-related cognitive decline.'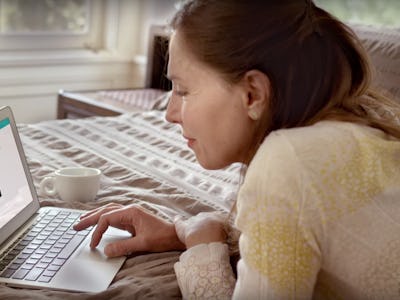 YouTube
Lumosity executives have agreed to pay out $2 million to settle claims of deceptive trade practices, after years of peddling games it promised would improve brain function.
"Lumosity preyed on consumers' fears about age-related cognitive decline, suggesting their games could stave off memory loss, dementia, and even Alzheimer's disease," said Jessica Rich, director of the FTC's Bureau of Consumer Protection. "Lumosity simply did not have the science to back up its ads."
If you signed up for Lumosity's auto-renewal program between January 1, 2009 and December 31, 2014, you'll receive notice of the settlement and instructions on cancelling your subscription.
Launched in 2007, the San Francisco company offers its nearly 60 million users a program of 40 games with the claim training will sharpen and retrain the brain if played only 15 minutes a session, three or four times per week. Customers pay anywhere from $14.95 for a monthly subscription or $299.95 for a lifetime membership to play the games Lumosity said were developed in partnership "with over 90 university collaborators."
All of which sounds good. The only problem is that the scientific consensus agrees Lumosity's claims are pure junk science.
Take this letter at the Stanford Center on Longevity titled, "A Consensus on the Brain Training Industry from the Scientific Community":
"Consumers are told that playing brain games will make them smarter, more alert, and able to learn faster and better. In other words, the promise is that if you adhere to a prescribed regimen of cognitive exercise, you will reduce cognitive slowing and forgetfulness, and will fundamentally improve your mind and brain."
There were also promises about "solid science" backing up the games:
"It is customary for advertising to highlight the benefits and overstate potential advantages of their products. In the brain-game market, advertisements also reassure consumers that claims and promises are based on solid scientific evidence, as the games are "designed by neuroscientists" at top universities and research centers."
There were only "tangential" connections to hard science, too:
"Some companies present lists of credentialed scientific consultants and keep registries of scientific studies pertinent to cognitive training. Often, however, the cited research is only tangentially related to the scientific claims of the company, and to the games they sell. In addition, even published peer-reviewed studies merit critical evaluation. A prudent approach calls for integrating findings over a body of research rather than relying on single studies that often include only a small number of participants."
That's not to say that neuroplasticity is complete bullshit. As Gizmodo noted in its own rundown of Lumosity following the Stanford letter, real, brilliant scientists are being paid a lot of money to find some way for us to train our minds.
The Institute of Neurological Disease and Stroke, the Office of Naval Research, the U.S. Air Force, the Marines, and the Intelligence Advanced Research Projects Agency have all invested in such research programs. It's just that there is absolutely no scientific evidence Lumosity is anything close to a mental Crossfit.
In fact, considering that one training regime shown to improve cognitive function is physical exercise, a Crossfit membership might not be a bad idea.