'Midnight Moment' Unleashes Barking in NYC at the Crack of 12 A.M.
Dogs show respect to the memory of fallen canines who risked their lives to help their human masters.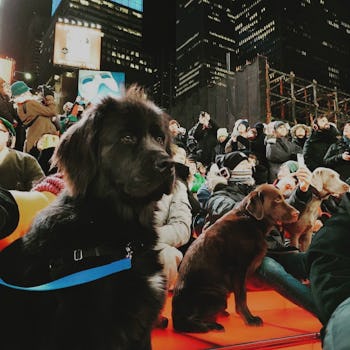 instagram.com/sherrydobbin
The Midnight Moment concept is a coordinated monthly arts effort by the sign operators in Manhattan's Times Square—using the electronic billboards found in that city zone to move from advertisements for a portion of time daily in order to allow an artist to perform a special piece.
Monday saw the iconic Laurie Anderson take on the many marquees of midtown Manhattan to put on a performance for canines called Heart of a Dog. The "Midnight" featured artist for the month of January 2016, Anderson set out to use this show to honor the first responder dogs used by the city during the recovery following the World Trade Center attack on September 11, 2001—to whom her film of the same name is dedicated.
Heart of a Dog film will run daily in Times Square from 11:57 p.m.-12 a.m. until January 31.
The concert was a 15 minute "silent disco"—allowing only those present wearing special headphones to hear the music played—and in this case, speakers also played low-decibel tones, only audible to dogs.
It seems as if the tones hit the mark: