Watch Lemmy Kilmister's Final Performance During Motörhead's Last Encore
Berlin saw the rock legend go out on the right song.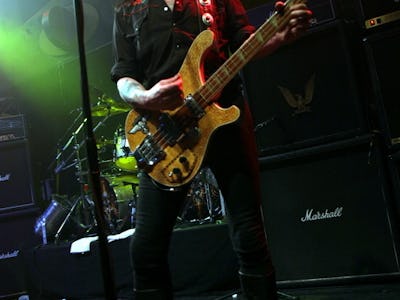 Wikipedia Commons
Impossible as it still seems, Motörhead had a final bow and this is what it looked like.
Filmed just 18 days before frontman Lemmy Kilmister's death from "aggressive cancer" (as if a shy, blushing cancer could ever take down legendary default life coach), the band played what was to be their last show, in Berlin. Visibly frail despite switching from whiskey to vodka and with his cancer yet undiagnosed, Kilmister isn't the swaggering belter longtime fans will recognize, but that he was on his feet doing the show at all is a testament to the man's force of will all by itself. "We are Motörhead. And we play rock and roll," he dictates his own obituary before lighting up "Overkill" for what turned out to be one last time. He waves to the crowd, leans his Rickenbacker against a Marshall stack, and just like that he's gone.