Florida's Endangered Manatees Could Be Promoted to Merely "Threatened"
The gentle marine mammals are making a population comeback.
by Sam Blum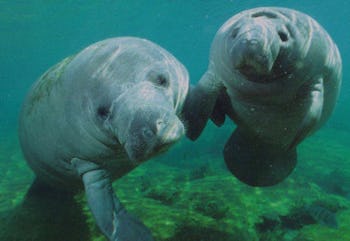 NRCA/Flickr Creative Commons
Florida's long-cherished manatee — a bulbous marine animal with no real natural predators — might soon be taken off the U.S. Fish and Wildlife Service's list of endangered species, where the sea cows have enjoyed protections since 1967. This comes as a community watchdog group filed a suit against the USFWS over the matter, petitioning the agency to downgrade the severity of the manatee's status, as it "no longer qualifies as endangered, according to the agency's own findings."
The suit, filed by the Pacific Legal Foundation on behalf of Save Crystal River Inc., a local non-profit, cites a USFWS five-year review of the West Indian manatee from 2007. The USFWS advocated for the animal's status change from "endangered" to "threatened" after the five-year review, but eight years later, no such change has been made. The total population of manatees swimming in brackish water, predominantly in Florida, has crested 6,000, up nearly 1,000 from surveys conducted in 2010.
Contrary to some conservationists' fears, the NFWS claims that a change in the animal's status probably won't prompt a sea change in long-held regulations meant to protect manatees from human encroachment. Motorboats have typically been the species' most menacing predator, often maiming and killing the herbivorous creatures, albeit unintentionally.
But as Florida Today puts it: "Opponents of slow-speed boating zones and other manatee restrictions say record counts in recent years bolster the case for reclassifying to 'threatened' and easing some boating and permitting restrictions." Presumably a change in the animal's status would make it simpler for people to boat through and to build near their habitats.
Jeff Fleming, a spokesperson with the USFWS, told reporters that "the level of protection doesn't change," if the animal's status is upgraded, but conservationists still voice concerns for the rotund creatures, which are generally defenseless and incredibly gentle, even as they grow to 13 feet in length and weigh perhaps 3,000 pounds, equivalent to a Prius.
Advocates like Maitland, Florida's Save the Manatee Club aren't convinced that current safeguards will be honored if the animal's status is changed. Katie Tripp, director of science at the Save the Manatee Club, cited grim figures from Florida's Fish and Wildlife Commission in an interview with local media earlier this year. In 2015, 84 manatees were killed by watercraft in Florida.
"I would definitely like to see that number as close to zero as possible," she said. "That's the number you can control. If you've got conscientious people who know the rules and are paying attention, you can control that a bit more."