Grandstand Offers Hot Take-Free Football Highlights, Bowl Season Simplicity
Sometimes you just want to watch a guy do a thing and not worry about it.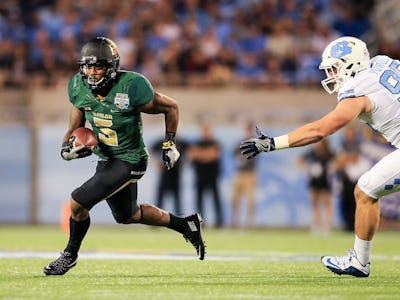 Getty Images
I went to the Monday Night Football game in Denver this week. It was awesome: Mostly because my Broncos won in overtime, but also because it was just a great game. Any football game is a blur of sights, sounds, and — in the case of Monday — far too many Coors Lights. It's hard to remember every moment and, as any sports fan knows, revisiting highlights is a whole thing unto itself. That's where a fan-generated app, Grandstand shines.
I, of course, remember Brandon McManus missing what would have been a game-winning field goal. My man shanked it. Hard. But, it was with much hilarity that I watched the videos Broncos fans had taken in the stands of the incident. There was cursing and bewilderment. From my comfortable chair in the future, I had a laugh. It all worked out.
I was taken with this experience so I decided to use Grandstand to watch a live college football game because it's bowl season, baby. The game in question was North Carolina and Baylor's grudge-less grudge match. There was a landing page, alright, but the app is highlight-driven so by halftime there were only 26 videos, mostly of touchdowns.
So, do ESPN and the major networks need to worry about crowdsourced video overtaking their primetime, polished broadcasts? Not yet. But, SportsCenter should take note of the highlights, which are great.
Grandstand offers a window into the fan experience — warts and all — that a big-budget sideline camera cannot. It's ESPN for and by the people (with way more f-bombs). Though it doesn't represent a new way to watch sports live, it does represent a great way to consume them after the fact. It offers all of the fun with none of the hot takes. It offers a fan's-eye view of the most exciting parts of games. At the end of the day, isn't that what non-Baylor fans want? To see something awesome? It is.
This is a great app for watching contests you don't care about. Prefer reaction videos to artificial narrative? Me too — though I'm still spending the next Broncos road game in front of the TV.