Faig Ahmed's Distorted, Pixelated Rugs Are Textile Acid Trips
The Azerbaijani artist finds inspiration in physical travel and "subconscious" relocation.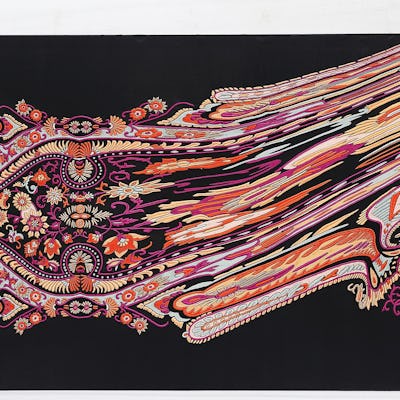 Olga Seleznyova
Faig Ahmed is an artist born in and based out of Baku, Azerbaijan, whose handwoven rugs marry the traditional to hallucinations of the internet age. His base is the familiar, traditional designs of Asian carpets and tapestries, akin to those you'd feel underfoot in an oil baron's study or see tying a room together at the Dude's apartment. But Ahmed's interpretation melts, stretches, dissolves, pixelates, and inverts them. He makes the classic downright psychedelic.
One of Ahmed's pieces, "Invert" (shown further below), is currently on display at the Museum of Fine Arts, Boston in the museum's Crafted: Objects in Flux exhibition. It will be on display until Jan. 10, 2016.
"I am in love with textile," Ahmed tells Inverse by email. That love is historical and cultural. Fabrics have been in use since "the beginning of times," he says. The concurrence and divergence found in patterns, both across cultures and time, call to him. "I consider them words and phrases that can be read and translated to a language we understand," he says.
If traditional patterns can be said to be expressive, then he's going beyond expression with his art. His work doesn't just talk — it screams, whispers, speaks in tongues.
"I explore ancient traditions, cults and cultures, I make my own research and as I communicate with it, I create art," he says. "My carpets, installations, and embroideries are the result of this interplay. It is fascinating to observe the process of such an easy transformation of such ancient and stable objects."
Against all odds, the transformations feel neither forced nor inappropriate. Somehow, Ahmed is able to make such drastic modifications gorgeous; they even seem natural. His art captivates, and he, in turn, is also captivated. "My art is an experiment," he says. "I want to examine the subject matter to see how deep can we go inside something accomplished and holistic and to observe the influence this kind of a change can have on people."
Ahmed explains that he is most inspired by travel. Again, though, he takes the traditional — in this case, the traditional sense of the word — and applies topspin. "By saying travel, I mean either physical traveling to other countries where I can find and explore traditions and cults spread on this certain territory," he says, "or traveling in my subconsciousness, different practices, and meditations."
He adds: "And there is something I believe: If you want to change the world, start with yourself."