Russia Ends Its Federal Space Agency
Russia's Soyuz spacecraft are the only ways to the ISS.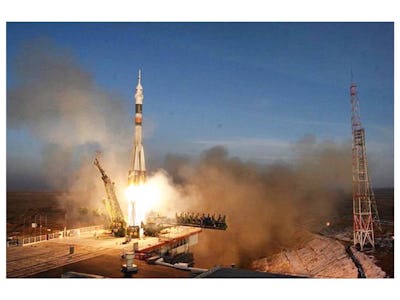 instagram.com/petite.astro
The end of 2015 will also see the end of the Russian Federal Space Agency Roscosmos.
The Kremlin's website confirms this via Twitter:
Russian President Vladimir Putin had signed a declaration in July 2015 that abolishes the Federal Space Agency, in order to replace it with a state-run space corporation, also called Roscosmos.
RT.com reported in May 2015 that Russia's Audit Chamber found the Russian Federal Space Agency responsible for "financial violations" in the order of approximately 92 billion rubles (about $1.8 billion) in 2014. Tech Insider explains that the dissolution of the Space Agency resulted from this incident—which the Russian government also connects to a number of rocket failures, dating back to 2010.
The functions and powers of the Federal Space Agency will be—on January 1, 2016—handed over to the Roscosmos corporation.
NASA has not made mention of the Roscosmos change, but this move is worthy to note in regard to the International Space Station, as NASA currently relies on the Russian Soyuz spacecraft for transit to and from the ISS.