Russia Will Crack Down on the 15 Most Popular Torrent Websites
It's Vladimir Putin and Roskomnadzor vs. pirated media. But will that be a deterrent?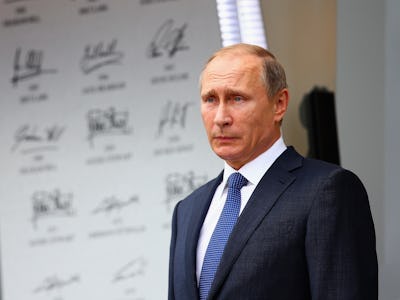 Clive Mason/Getty Images
Russians, like most people, like to absorb media, but don't like to pay. Roskomnadzor, the country's telecom and media industries regulating body wants people to pay, so in 2016 it's going to block Russia's 15 most popular torrent websites. It is not yet clear what sites will be included among the 15, but Billboard speculates it'll be curtains for KickAss Torrents, ExtraTorrent, and Yify Torrents — three of the world's most popular — in Russia.
Prior to its announcement, Roskomnadzor polled Twitter, asking, "Why do you need the torrents?" Of the 4,506 respondents, 37 percent said, simply enough, they don't want to pay. Another 36 percent cited "other reasons," such as possibly not having legal ways to download. Notably absent was anybody responding, "To each according to his needs."
The move comes after one of Russia's biggest legal online music providers, Muz.ru, shuttered operations in mid-December. Muz.ru's General Director Konstantin Bogdanov said of the move, "When the project was launched, there were big hopes for fighting online piracy. The market is large and promising, but legitimate music services cannot compete with pirates."
Roskomnadzor's Alexander Zharov has echoed that feeling, stating "that the internet has become the basis of a content distribution medium." He also advocates a solution: "Online video services and the government needs to develop a culture of legal consumption of premium content among citizens."
Russia's hardly the first nation to try to scrub its internet of pirate services. Sweden recently attempted to sue an internet provider for even allowing pirate sites on its servers. A Stockholm court threw out the suit because there is basis for prosecuting on what an individual might do on a very vast service. Bredbandsbolaget — the Swedish provider in question — did not contribute to copyright infringement, so it did not violate any laws.
If Russia can effectively target torrent services, however, then the country would be taking down copyright violators. Nevertheless, it's only 15. It's also likely that new replacements will pop up shortly. While it's a short-term solution, as Zharov says, there needs to be a better answer.
People don't want to pay for consumption — and the debate on whether they should is another topic entirely — so they will do whatever they can to access content for free. In the States, sites like Project Free TV tend to disappear and reappear constantly because, although they're illegal, demand keeps them (or their imitators) coming back. Roskomnadzor's impending blockade will likely minimize torrenting in the short-term. But compromise should be reached for lasting benefit to both the consumer and the creator.