This Guy Built a Boeing Jet-Powered Go-Kart
The kart uses a 1960s surplus Boeing engine.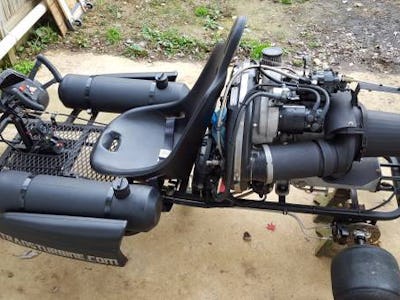 Seth Kettleman
There is a Boeing jet-powered go kart on Craigslist. Your Christmas list is now invalid. Rethink your priorities.
Being sold out of Middletown, Maryland for the reasonable price of $10,500, this is the ride the childhood version of yourself, who believed in Santa Claus before the punishing weight of reality crashed down around you, would ride in better dreams.
Here's how the ad describes it:
Boeing Boss built by Seth Kettleman at TransTurbine. This go kart is powered by a Boeing 502-12 Gas Turbine engine in custom turbojet configuration. This land-jet produces over 300 pounds of thrust which will easily propel you to infinity and beyond. For more information on this kart or other gas turbine jet engines contact Seth (a-t) TransTurbine.(c-o-m)
We hit up Kettleman to get a little deeper into what the buyer could expect and for an explanation how he got his hands on a Boeing engine.
According to Kettleman, the kart uses a 1960s surplus Boeing engine that has been custom-modified into a turbojet configuration.
Kettleman writes: "I have not conducted extensive trials with the craft as of yet, yet preliminary findings show speeds in excess of 100 mph tracked via satellite GPS," Kettleman writes. "The kart is limited by its braking system and lack of suspension. This kart was primarily designed for fun, marketing, and getting individuals acclimated with gas turbine engines. If desired I can build a more active chassis with progressive independent suspension, 4 wheel disc brakes and larger power-plant if need."
Kettleman is a surplus aircraft parts dealer with a background in mechanical engineering, gas turbine engines, metal fabrication, and performance vehicles.
This isn't his first jet-powered residential rocket either. He made headlines in 2012 when he offered a kart juiced up with a reclaimed Boeing 502-7 gas turbine engine. He's also designed a Batmobile replica and another rocket-strapped Datsun 280ZX on eBay.
"I have built many turbine/jet powered vehicles. I often build promotional jet-powered vehicles for companies and individuals looking for something different and unique to stand out," is Kettleman's humble way of describing these road-eating monstrosities.