Security Researcher Uncovers Iranian Hackers Working to Cut Off U.S. Electricity
A new AP investigation exposes weaknesses within the nation's electricity system.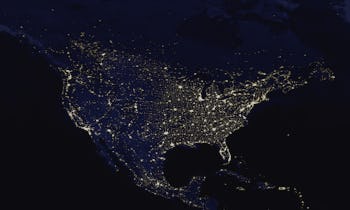 NASA
A new Associated Press investigation published today offers an eye-opening reminder of just how susceptible America's power grid is to a little something called malicious infiltration.
In the report, we meet Brian Wallace, a researcher at Cylance cybersecurity, and learn how he uncovered — somewhat by chance — an in-progress Iranian hacking operation. The information these hackers have access to enables them to literally fight the power — they could cut off the electricity on which millions of homes run.
Yet, here in the United States., we have not seen such an attack. We have seen harbingers of such a threat for years, including that book written by Ted Koppel — but the electricity keeps flowing. It may be that these hackers are biding their time, amassing more material so as to create a more devastating attack, or it may be that they have the information but not the particular and considerable expertise that a full-scale attack would require.
The AP reports that the hack Wallace discovered was carried out against Calpine Corp., "a power producer with 82 plants operating in 18 states and Canada." And the independent AP investigation proves that the hackers have valuable — and, from a subversive point of view, useful — information, including: login credentials, engineering charts of "networks and power stations from New York to California," and more.
The power grid is complex, and there are many fail-safes, so some experts argue that the threat is relatively negligible. Even so, they admit that such a breach and override is possible.
With the modernization of infrastructure came vulnerable technology with weak, hackable security systems, and much of the system today still runs on outdated hardware and software.
We may soon experience firsthand just how exposed the system truly is. Better go buy yourself a generator.