Google's Chris Urmson Blogs at California's DMV
The exec took a moment to spell out what kind of freedom a driverless car could deliver.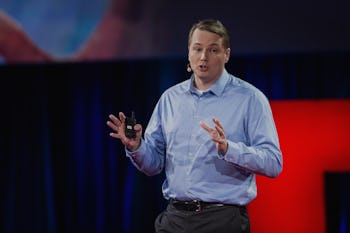 TED Conference | Flickr Creative Commons 
Google executive and robotics expert Chris Urmson took to Medium.com Thursday to take task with the California Department of Motor Vehicles, who he feels could cost Californians the advantages driverless vehicles might one day deliver.
Urmson focused on a proposed rule that would necessitate a licensed driver in a self-driving car at all times. He wrote:
"The status quo on our roads is simply not problem-free — it has a real cost, not only in productivity and stress, but in lives damaged and destroyed by the mistakes of human drivers…we've seen in our own testing that drivers can't be trusted to dip in and out of the task of driving when the car is encouraging them to sit back and relax."
This is in reference to what Google has named "The Handoff Problem" — the keeping of drivers aware enough of what's happening around their car at any given time in order to grab the wheel in a pinch or, more importantly, an emergency. From the October 15 Google Self-Driving Car Project Monthly Report:
"In a National Highway Traffic Safety Administration study published in August 2015, some participants took up to 17 seconds to respond to alerts and take control of the vehicle — in that time they'd have covered more than a quarter of a mile at highway speeds. There's also the challenge of context — once you take back control, do you have enough understanding of what's going on around the vehicle to make the right decision?"
Urmson also reminded that under the proposed DMV rules, which if to require a licensed driver, would then necessitate a car having a steering wheel and pedals—items that Google's prototype two-person car would, in planned form, have neither. He explained how people "with health conditions ranging from vision problems to multiple sclerosis to autism to epilepsy who are frustrated with their dependence on others for even simple errands" could benefit from the expected Google vehicle.
The engineer added that others who might gain an improved quality of life by way of driverless driving include wounded military veterans, the elderly, and even commuters "near a weaving driver who's either had a few too many drinks or is distracted by their phone. Having a self-driving car shoulders the entire burden of getting from A to B," adding, "and knowing that many other vehicles out there are also navigating autonomously — could make a big difference."
Google reports it currently has 23 Lexus RX450h SUVs self-driving on public streets, as well as 25 other prototypes, motoring in "Autonomous Mode"—so far logging 1,268,108 miles since 2009, averaging 10,000-15,000 miles per week on public streets.
Google's October Self-Driving Car Project Monthly Report reported no traffic accidents involving their self-driving test vehicles were reported to the California DMV.
Chris finished his blog with some positive words:
"California is a state with both world-class car culture and world-class innovation, and we can do better. Instead of putting a ceiling on the potential of self-driving cars, let's have the courage to imagine what California would be like if we could live without the shackles of stressful commutes, wasted hours, and restricted mobility for those who want the independence that the automobile has always represented."