How to Dress Like Krampus for Christmas
Add some Christmas terror to your holidays this year with our fool-proof goat demon costume tips. Your family will love it.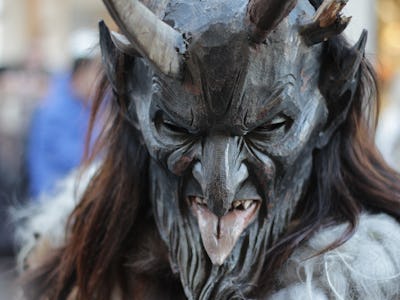 www.flickr.com/photos/82088316@N05
Though we didn't think much of the movie Krampus here at Inverse, director Michael Dougherty's holiday horror fest has scared up strong box office grosses since debuting in theaters two weeks ago. Along the way, it has made its titular Christmas demon from Germanic folklore an unlikely holiday celeb. Krampus is sort of a like a yuletide devil; the OG Bad Santa. He's a gigantic half-man, half-goat hellspawn that terrorizes bad kids around Christmastime. Whereas St. Nick brings good kids presents, Krampus visits the naughty kids, rips them from their homes, and drags them to his lair in hell. Ho, ho, ho, little dudes.
Cosplay as Santa if you must. The true (i.e., terrifying) spirit of Christmas requires dressing up as Krampus this year. Here's everything you need to get decked out as the holiday goat demon you were meant to be.
1. Huge Robe
We're going on the Krampus as seen in the movie. To ensure maximum scares, the filmmakers outfitted their goat demon with a huge, disgusting robe. This kind of thing can be found at any thrift store or Goodwill; to ensure maximum Krampus-inspired authenticity, reach for one that hasn't been laundered. A Krampus shouldn't smell of Tide.
It may be pricey but this oversized, filth-hued $80 robe from Amazon fits the bill perfectly. Just make sure to wear it constantly while doing strenuous and sweaty work, store it in restaurant dumpsters overnight, run it over with your car a couple times, and loan it to your dogs to nest in occasionally.
2. Tail
Finding a gross goat tail on the internet is harder than it sounds. This one isn't gonna be found on Etsy or eBay or anything like that. To actually become Krampus you're going to have to think differently. In this case, find a butcher shop close to you (here are New York's finest in NYC) and ask for a goat or ox tail. If not, scour the internet and buy a goat from a local farmer, get it butchered, keep the tail "just because," and serve the rack and shortloin to the kids all week. Sew the tail onto a belt, like this one for $15, and voila, you've got yourself a disgusting goat demon tail.
3. Horns
As with the rest of the costume, the more ridiculous the better. Thankfully there are countless ram costumes out there for the taking because weirdos apparently like to dress up like rams for Halloween. Your best bet is these $19 ram horns from Target. They aren't as majestic as the ones in the movie, but mythological demons can't be choosers.
4. Chains
For some reason Krampus is covered in chains in the movie as well, most likely to drag his victims away with. As with the repulsive robe, if you have rusty old chains lying around your dad's garage then those are preferred for that lived-in, died-in feel. If you're stuck going shiny, Home Depot has a wide variety of chains available online or in-store. Scope out the Everbilt 5/16 in. x 20 ft. Grade 70 Tow Chain with Grab Hooks, which at $36.98 is a steal. I mean, c'mon. How perfect are "grab hooks."
5. Hooves
If the butcher left the hooves intact then you know what to do, but if we go that way you wouldn't plausibly be able to walk using them would you? We'll have to defer to costumes on Amazon once again just for pure comfort and the ability to make it look like you're creeping around as Krampus with $27 cloven footwear. That'd be the thrifty way to go, but anyone with serious money to throw into this endeavor could ostensibly pay for these $285 jumping stilts and outfit them with some hooves. Just make sure the robe covers the metal bits to keep up the illusion.
6. Bell Ornaments
Krampus in the movie also gives the people he doesn't murder little bells with his name on them. It's kind of like an extra "fuck you" straight from the Kramp-man himself right before he takes his victims away. We feel sorry for the people left with folklore-inspired survivor's guilt, but hey, they do get an ornament to throw on their Christmas tree for next year. It just so happens that the people at WETA Workshop, the special effects wizards behind all the nifty weapons from the Lord of the Rings movies, have a Krampus ornament replica. They're temporarily out of stock at the moment, but plan ahead for your Krampus costume for next Christmas or Halloween or Valentine's Day, sicko.
7. Goat mask
The pièce de résistance of any Krampus costume is to have your face resemble a goat. Now remember, Krampus isn't a full-on goat, so ideally you'll get some prosthetics, like a snout, to just accentuate your human features into a goat-like visage. It's easy, really. You could go to eBay (this one in particular would check off three things on this list). Again, this will be pricey, but we recommend getting in touch with some special effects makeup artists to really do you over to make your evil Christmas goat demon persona come to life. Happy holidays!