Hacker Says He's Matched Tesla's Self-Driving Car, Elon Musk Claps Back
It sounds like George Hotz might have a personal score to settle with Tesla.
by Sam Blum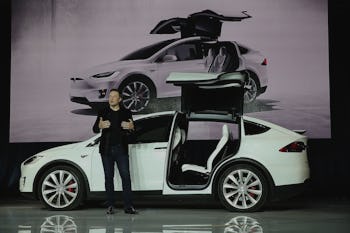 Getty
Growing up, George Hotz was a tech prodigy who became the first person to hack an iPhone. Later, he won programming contests for lucrative sums, was sued by Sony for hacking Playstation 3, and was the subject of a 2012 New Yorker profile. This was all before he turned 22.
He also has something of an axe to grind against Tesla CEO Elon Musk, who once offered him a job.
Hotz's plans to outshine Tesla's autonomous capabilities are the subject of a captivating new profile in Bloomberg Business, written by Ashlee Vance, who also happened to write the latest biography of Elon Musk.
Vance shares how Hotz has built a self-driving car in his residential San Francisco garage, and it bests Tesla's Autopilot software, using cheaper equipment and superior coding.
Hotz also claims he'll be able to unveil a vastly superior autonomous vehicle in just five months.
Musk is calling Hotz's bluff, though:
Tesla claims that it's "extremely unlikely that a single person or even a small company" could engineer an autonomous car using equipment parceled together in a private garage.
Tesla's statement focuses slightly on Hotz's car, an Acura ILX rigged with a radar system, and the reporting of Vance. Tesla claims that Hotz's prototype "may work as a limited demo on a known stretch of road," but couldn't possibly account for the minute characteristics of "millions of miles of widely differing roads."
That of course, sort of misses the point of Hotz's technology, which according to the Bloomberg story, hinges on the autonomous car adapting to the driving habits of the motorist, as opposed to a given environment.
On the other hand, Tesla alleges that Vance did get something slightly wrong in his story, and it involves MobilEye, the Israeli company that supplies Tesla with its driver-assisted technology. Vance's story suggests that Tesla has done "a remarkable job re-marketing the MobilEye technology" and simply packaged it as a native Autopilot product, but Tesla says that's wrong:
"Were this simply a matter of repackaging a vendor's technology, as claimed in the article, we would not be unique in offering this groundbreaking experience in production vehicles. If other car companies could meet or exceed the Tesla product by buying an off-the-shelf solution, they would do so."
Tesla's own Autopilot software has been subject to criticism, as cars occasionally have veered off roads and at times endangered passengers. It's newest version of Autopilot, actually scales back the self-driving technology due to what Elon Musk calls "people doing crazy things" while engaged in Autopilot.
Hotz doesn't seem likely to renege on any of his claims.
In fact, he says he plans to test his technology against a Tesla on the I-405 freeway in Los Angeles, to see which car can maneuver with greater ease along congested highway curves. The contest will be filmed and posted to Hotz's YouTube channel.