The 'Christmas Shoes' Kid on Life as the 'Christmas Shoes' Adult
"Whether or not you like it, it's powerful."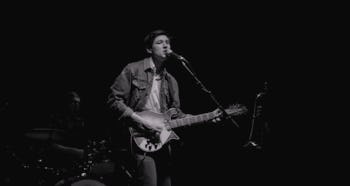 The Christmas Shoes 
The holidays are hard, but they can't be any harder than they are for Robert Gay, the kid who sang the infamous child solo in the widely detested yet inexplicably ubiquitous tearjerker "The Christmas Shoes" almost 15 years ago. You know the one:
Sir I want to buy these shoes for my mama, please. It's Christmas Eve and these shoes are just her size.
Several saccharine lines later, his mom passes away. But it's totally okay because she's going to meet Jesus wearing the beautiful shoes! Now grown up and a touring musician, Gay can laugh about the song's morbidity, but he's never once regretted being that kid. Like the song or not, he says, it's become a holiday institution, and he's at the center of it. Gay talked to Inverse about the awful Rob Lowe movie inspired by the song, being ripped apart by Patton Oswalt, and feeling jealous when a little girl covered his solo.
How did you become the "Christmas Shoes" kid?
My parents do Christian children's music, so by the time I was five years old I was doing a couple of kid solos, things like that. They were actually on the same label, Benson, as NewSong, the group that did "Christmas Shoes." By the time they wrote the song and were ready to record it, they knew they wanted to have a kids' choir and then a solo at the end. My mom was doing a lot of choral directing and kids' choir contracting, so she was the natural choice, as far as figuring out who the right kids were.
A few of us tried the solo and they wound up picking mine.
What happens when you hear it on the radio now?
There are so many feelings. I'm so proud to be part of something that is so iconic in pop culture. There are people who love it, there are people who absolutely hate it, but it's a fond memory and one of the most unbelievable experiences. The peak was when I was a sophomore in college and I had just moved into a new dorm. It was towards the beginning of the school year, and I was in the elevator, and two people who I had never met before turned around and said, "I heard you sang in that song."
Do you still tell people that you're that kid?
I certainly don't go around advertising it. But at the same time, enough people know at this point that I certainly don't hide it. My friends are well aware. It's kind of become a way that I get introduced to people, which, long ago, I had to become okay with. People just sort of go into shock from that moment because it's like, "Whoa, I remember every single year hearing that song and my mom would cry." It was a slightly traumatic way to be a part of someone's holiday season.
Some people really, really, hate the song. Have they ever lashed out at you?
Usually we're able to laugh about it together. I think it means very, very well, and if it's not your cup of tea that's totally fine. I'm personally a big fan of the comedian Patton Oswalt, and I was honestly thrilled and so honored to discover that this little song that I had sung on that became such a pop culture icon that he wound up going on this seven-minute rant about it. He absolutely hates the song. It was actually voted the worst Christmas song of all time a year or two ago, even beating out "Grandma Got Run Over By a Reindeer." There's something about the level of infamy that … there's both sides to it. For people that hate it that much, there's people who love it that much too.
What did you think about the song when you were 12?
I thought it was such a beautiful, sad song. I remember my dad was a big fan of "Cats In the Cradle." I almost could not listen to songs like that because they just made me feel so sad. So I can totally relate to people who hate the song. But you know, you sing it a couple more times and then you get into singing it live. Sometimes a really sad song can make us feel better too.
Does it make you feel anything now?
It's more of a memory to me now. I do think that it's helpful in teaching awareness and teaching empathy. I think the things that make me sad now are these stories in real life, witnessing people unable to make ends meet or struggling through really hard times. I would say that the song reminds me of things that I have a right to be sad about.
What do you actually think of the Rob Lowe Christmas Shoes movie?
The thing I most remember about the movie is being disappointed that I didn't get cast as the little boy.
Has the song changed your relationship with Christmas?
Oh, absolutely. It is not Christmas without "Christmas Shoes." I can't not be aware of it because I'll be walking through the mall and I'll hear myself on the mall radio or the movie will be on TV as I'm flipping through channels or I'll get one of 30 texts that month of "Oh, I heard you on the radio today!" It's this whirlwind. You cannot escape it.
Do you want to?
There was a brief time when I thought I didn't want anybody to know about it. But the reaction that I've really gotten from people is they're kind of amazed and it's probably the best ice breaker you could ever ask for. My wife, actually, after our first date, she was telling everybody, "I went on a date with the Christmas Shoes kid, who's all grown up!"
So… she didn't think it was weird.
Yeah. It's almost like meeting an internet celebrity. Someone who's not quite famous. Like, if I met the guy who sang Chocolate Rain. It's kind of a crazy song, but I would be so excited to meet the guy.
Can you recall a time when you really wish it hadn't happened?
I was sitting in church and the pastor was illustrating something. It was around Christmas time, and he used the song as an example. At that moment I saw probably about 20 heads turn back to face me, and then of course my phone went off. I was just so embarrassed. Like, no, please do not make this about me. But what it's come to mean to me over the years is that it's this crazy story that I can't get away from, and there's nothing to do but embrace it.
Does it ever feel like there's no escaping it?
So, I'm currently on tour and playing trumpet with the artist Francesca Battistelli. A couple days ago we were performing in Texas, it was intermission, and I saw Franny was sitting down and listening to "Christmas Shoes." It was a different version where there's a little girl singing the solo that was my solo at the end of the song, and I got kind of frustrated because nobody likes to be replaced. The song ended and it sounded like a little girl, and I was like, "Well, I did it better." And she said, that's my son singing with his granddad.
That was the moment where I discovered that the artist I'm on the road with is married to the son of the lead singer of NewSong. That was the moment that she found out that her trumpet player on this tour was the kid who sang with her father-in-law on the same recording of the same song.
Do you ever regret it?
No! I'm still a singer and musician to this day, and if that's how people first became aware of me, that's alright. There's crazier stories in show business. Everything from Britney Spears and Justin Timberlake starting out from the Mickey Mouse Club. It's a strange, mini-version of child stardom. I got the best version possible.
So … you're really not sick of the song.
In the end, it's a powerful story. Whether or not you like it, it's powerful. It inspires a strong response on whatever side of the spectrum you're on, and I think that's great songwriting. A lot of people don't know it's real. It was a true story and became an internet chain letter that was emailed around. One of the guys from NewSong happened upon it and actually spent a couple years trying to write this song until he was satisfied with it. So there was a long period when the song was coming together. I think it was the '70's when it originally happened and here we are, 40 plus years later, and we're still talking about it.
That's Christmas for you.
Yeah, I think it's the best time to tell the same story over and over again.