Preserved Severed Head Found in Pennsylvania Woods Still Baffles Cops a Year Later 
Police say there are no new leads about the head, which has to be buried soon.
by Sam Blum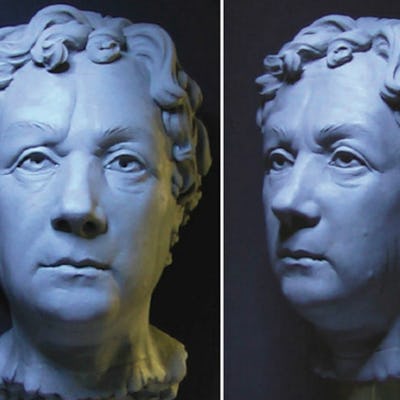 Economy County Police
In December 2014, police in a rural Pennsylvania community were alerted when a passerby noticed a woman's severed head lying idly in the woods, surrounded only by trees and dirt.
One year later, investigators are still no closer to placing an identity on the still-anonymous woman-without-a-body, who was found completely embalmed, seemingly unperturbed and almost expressionless.
When she was found, her hair was primped and styled as if ready for a funeral service, while her eye-sockets were filled with rubber pellets.
Speaking with Inverse, Mike O'Brien, chief of the Economy Borough Police, revealed that his department has since shifted course, and relied on more basic police work to piece together the investigation, using community tips taken from a special hotline meant for anyone who might have information about the woman, who was believed to be in her 60s.
"We're asking for help from the public here to look at the photos and sketches…to generate some kind of a lead," he said, adding that his department has followed about thirty community tips, all of which have lead nowhere fruitful.
Scrupulous reporting from various outlets, including this captivating Washington Post story, revealed the extent of the Economy Borough police department's subsequent investigation, which drew on various modes of unorthodox detective work, including soliciting help from a freelance forensic artist whose 3D molding of the woman only revealed fragments of the puzzle.
The artist, Michelle Vitali, is a professor at Pennsylvania's Edinboro University, and told The Post she's been haunted by mysterious severed head.
Vitali's rendering of the woman looks like this:
Although the case might smack of something handpicked from an episode of Law & Order: SVU, the circumstances aren't necessarily as chilling as one might think: The pellets in the woman's eyes had perhaps been the product of a transplant — ostensibly conducted for medical research — while investigators working on the case suggest she had been professionally embalmed in a mortuary — which rules out murder — according to the Washington Post.
Additionally, investigators were given a flicker of hope on Monday, after tests conducted by specialists in Utah revealed that the woman had moved several times in the final months of her life. Using an isotope analysis, which examines how different environments effect the human body's absorption of isotopes, specialists at IsoForensics in Salt Lake City deduced that she continuously moved between the states of Pennsylvania, West Virginia, New York, Maryland, and Ohio in her final months.
While the advanced scientific method used to basically geo-tag the woman's remains have offered a shred of relief, it basically opens up the investigation across evermore territory than previously imagined.
The Post noted that if investigators are unable to deduce the woman's identity before Spring of next year, she'll remain buried with the headstone "Jane Doe. Found Dec. 12, 2014."