You Need to Read Robert Kirkman's 'Outcast' Before It Comes to TV in 2016
The creator of 'The Walking Dead' will bring his third TV series to life next year. It will be his best.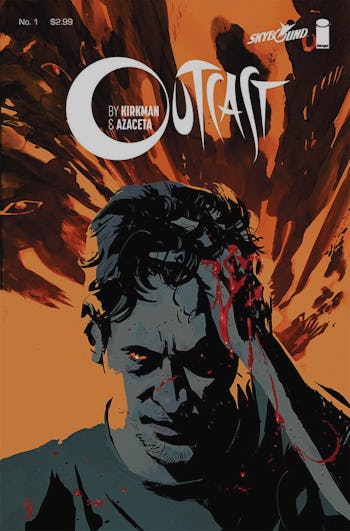 Image Comics
Cinemax debuted the trailer for its new horror series, Outcast at New York Comic Con in October. The pilot episode, set to air in 2016, is being directed by Adam Wingard, who oversaw the fantastic You're Next in 2011, which is the trivia enthusiast's way of saying that the series is sure to be a Walking Dead-sized hit. You'll love it, but you should love the comic first. It's the best thing Robert Kirkman has ever written.
The Outcast comic follows Kyle Barnes, who has been plagued by demons since he was a child. Barnes partners up with a likable local priest, and the two men check in on former possession victims, only to realize that demons are far more powerful, and more present, than anyone had imagined. Kirkman's demons aren't cheesy; they're complex beings who respect the series' primary villain, an elderly man who could be Satan, but might be God. This old man follows Kyle around, trying to prevent his attempts at exorcisms and, when asked about his identity, replies simply, "You know who I am."
Kirkman's Walking Dead empire, which includes the comic books, series-inspired video game, and two shows, is built on a story with huge gaps in energy. Although The Walking Dead inspires a massive number of weekly viewers, it's been criticized for losing sight of what makes a horror story watchable: stakes and monsters. Where The Walking Dead sometimes succumbs to cloyingly heartfelt conversations, Outcast is just bleak and hard and scary.
Kirkman's demon-comic, compared to his zombie-comic, is quiet and tense. Artist Paul Azaceta plays with light and shadow in a more nuanced way than Tony Moore, who illustrates The Walking Dead. Azaceta's details, like the bulging eye of a possessed little boy, jump off the page.
Outcast's Kyle Barnes broods and reflects on past trauma, while Rick Grimes moves relentlessly forward. The characters on Walking Dead need to survive above all else, and secondary objectives warm peacefully on the backburner. Outcast, however, has two competing arcs: Kyle's quest to determine why demons are drawn to him and the growing global threat of demons who have inhabited humans for hundreds of years. The common thread in the comics is the art. The Walking Dead comics now feel like a means to an end — they are no more artistically exciting than the TV series — but Outcast is its own work of visual rhetoric.
Some of the promotional videos released by Cinemax promise that Outcast will be creepy and dark, as opposed to action-packed. This tone is a departure for Kirkman, and if his Outcast comic is any indicator of the show's quality, we're probably in for something more complex than The Walking Dead, although the latter probably has more mass appeal.
It's just so much fun to watch a creator like Kirkman grow into himself as a storyteller, and Outcast has been his platform for experimentation in color and pacing since 2014. His Walking Dead success has allowed him to take a real crack at a more-ambitious sophomore narrative, and so far, he's pulled it off. He told the press before the comic's release, "['Outcast'] probably won't be as much of a bloodbath as 'Walking Dead'…but when you're doing an independent comic and can do whatever you want, it's fun to keep people guessing."
Whereas The Walking Dead TV series keeps its audiences on their feet by introducing new villains, and threatening (but not always committing) to kill off beloved characters, Outcast will attract and keep viewers by telling a story Kirkman has called "epic" in scale. Reading Kirkman's comics before the series begins in 2016 will not spoil any of the larger plot points in store, but it will inform a more complete viewing of the TV series. Also, reading the Outcast comics is just a really, really good time.