Obama's Speech Can't Help but Remind Us of Banksy's Steve Jobs Graffiti
"Many of the Fortune 500 companies in this country were founded by immigrants or their children."
by Sam Blum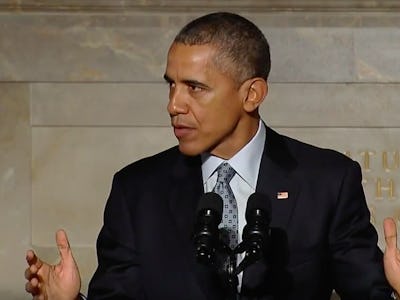 White House YouTube
During a naturalization ceremony Tuesday that took place before iconic national documents like the Constitution and within walking distance from the Library of Congress, President Barack Obama heaped praise on the ingenuity of immigrants, including those who've helped shape the tech industry in Silicon Valley.
"Many of the Fortune 500 companies in this country were founded by immigrants or their children," Obama said, before following up with another very true statement: "Many of the tech startups in Silicon Valley have at least one immigrant founder."
Obama's remarks on the tech industry, which were part of a speech that indirectly lambasted xenophobic ideas by Republican presidential hopeful Donald Trump, also invoked a new work of art produced by the renegade street artist Banksy, albeit unintentionally.
Called "The Son of a Migrant from Syria," Banksy's painting shows the most popular incarnation of late Apple founder Steve Jobs, clad in a black turtle-neck, clutching what looks like the Macintosh 128K, with a nap sack over his shoulder.
Banksy's mural was painted on a wall at the Calais refugee camp in Northern France, which is cluttered with tents and families looking to build anew after fleeing war-torn Syria and Islamic State terrorism.
As the painting notes, Jobs was not himself an immigrant: Although he was adopted, his biological father was from Syria.
Obama's speech, which came after the official naturalization of 31 immigrants from 25 countries including Iraq, Venezuela, and the Republic of Congo, saw the president speak of American's occasional betrayal of constitutional ideals. Obama repeatedly hearkened back to grim moments in history when fear of immigrants cast a particularly dark shadow over government policy.
"Japanese American citizens were forced from their homes and imprisoned in camps," Obama said, before adding that during periods of heightened international tension, "We succumbed to fear. We betrayed these documents. It's happened before."
The naturalization ceremony comes after a reported spike in fear of terrorism among Americans, stemming from terrorist attacks in Paris and San Bernardino, California.
Resulting controversy surrounding the flow of Syrian refugees and other immigrants has been a prime issue for Republicans hoping to win the party's nomination for 2016.
Predictably, immigration will be the main topic at tonight's GOP debate.
We can't wait for it.
Here's Tuesday's full presentation: