Adele 'Live in New York City'
Her 'live' show on NBC, and how the Twitter-verse responded.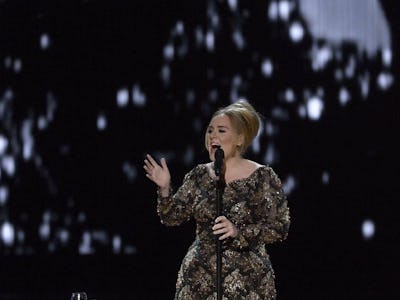 instagram.com/nbctv
Walking onstage and immediately belting out her massive single "Hello," the UK singer/songwriter Adele broke open a late-evening TV performance in a show taking place only hours after announcing she'll be returning to North America for her first tour in five years.
Network concerts certainly don't happen every day—how did people react?
The show was billed as Adele Live in New York City, but not long after the program started, a subtle headline pointed out the show was actually recorded on November 17. Some on Twitter were not pleased:
However, the impact of discovering the show was taped didn't diminish the night for all:
It seems some are feeling the ads to be a bit crushing:
Adele got bleeped a few times, but her swearing got positive results.