Your Ugly Holiday Sweater Party Is an Unironic Corporate Cash Cow
Fast-fashion retailers churn them out by the thousands, but the media still attributes the trend to "hipsters."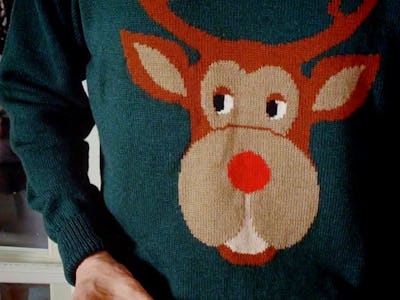 Miramax
We are a generation inclined toward irony, so it's not surprising that the style of holiday sweaters once worn in earnest by our grandparents is wildly popular again. We dubbed them "ugly Christmas sweaters" and organized parties around them, intending for our friends to wear the bejeweled penguin pullover their great-aunt got them years ago. We hoped our friends would dig through the sweater pile at Goodwill and find a great one. Now that mainstream companies like Urban Outfitters are churning out purposefully "ugly" holiday sweaters for "National Ugly Sweater Day" on December 18th, the business of ugly sweaters has changed. They're not just funny; they're a business venture for those seeking to profit off millennial amusement. So who's making money?
Back in 2011, Time published a cultural history of the ugly holiday sweater, citing 2001 as the beginning of the craze and blaming "hipsters" for the aesthetic. But even in 2011, as Time pointed out, major fast-fashion retailers like H&M were already mass-producing garish holiday-themed sweaters for young teenagers. Old people might still blame hipsters for ugly sweaters, but the trend hasn't been hip in at least a decade.
Even Katy Perry, when she signed on as the face of H&M's holiday line this November, debuted an ugly holiday sweater of her own. Fetty Wap's personally branded holiday sweater sold out in minutes, and even Beyoncé recently was photographed entering and exiting her office Christmas party in a collection of ugly Christmas gear (including a sweater). Now we're all just waiting on Russell Westbrook to fulfill his destiny and unleash the ugliest of sweaters.
Last year, Bloomberg Businessweek published an exposé on the ugly holiday sweater trend, naming companies like Skymall (R.I.P.), Target, and Forever21 as the trend's top earners. Michael Gerald, a company that produces a DIY holiday sweater kit sold in department stores, estimated it would sell 400,000 kits during the holiday season. According to Bloomberg, many craftsfolk used Etsy to sell their designs in 2014, and some made tens of thousands of dollars simply by adding extra details to ugly sweaters bought in bulk in thrift stores.
Tipsy Elves, a San Diego sweater-producer that won a huge grant on Shark Tank, allegedly made "several million" dollars in 2013 off a single sweater design. The Tipsy Elves design of 2014 was an embroidered Jesus with the caption "Birthday Boy." This year the company has produced sweaters featuring ninja gingerbread men (ninjerbread?), an off-brand Grumpy Cat (Sorta Unhappy Cat?), a drinking game sweater with a target on it, and Jesus and Santa standing next to each other without comment. The Tipsy Elves ugly sweater collection also includes a sweater dress that apparently gets stock photo male models randy.
Bloomberg concluded that the business of producing ugly holiday sweaters allowed average, crafty people to quit their day jobs and glue felt pieces to old sweaters for enormous profits. With corporations making millions of dollars off the cheaply made holiday sweater trend, one woman's Etsy account seems paltry in comparison.
The demand for ugly holiday sweaters has ballooned to huge proportions in the last few years, dimming the trend's once-ironic appeal. Now that ugly holiday sweaters are more likely to be a theme at your father's insurance company's big holiday party, rather than the theme at any of the parties you'll attend, ugly sweaters may see a decline in demand. Not this year, though. A company called Fresh Brewed Tees reported to TMZ that its Kanye design and its accompanying Kim design have been mailed to 15,000 customers so far this year.
As we all know, Kanye's involvement with any fashion trend means it's here to stay, at least for a while.