The Next Expedition Prepares for Their Turn Aboard the ISS
The three will blast off on December 15, and then stay in orbit for six months.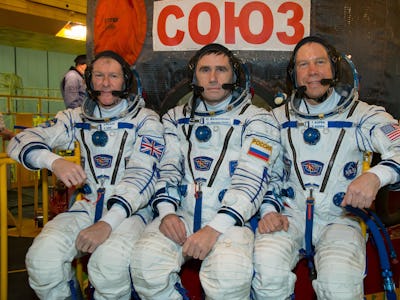 NASA
As the International Space Station zooms through space in orbit, its next batch of residents—the three-man Expedition 46-47 crew—have made their way to the launch site at the Baikonur Cosmodrome in Kazakhstan to finish preparations for the mission.
Come December 15, Commander Yuri Malenchenko of the Russian Federal Space Agency, NASA Flight Engineer Tim Kopra and Flight Engineer Tim Peake of the European Space Agency will blast off in a Soyuz spacecraft in order to make the six-hour trip to the ISS—and then stay and work there for the next six months.
Here's a video of the trio's training at the Baikonur Cosmodrome in Kazakhstan, which started back on November 30 and wrapped Thursday:
The Soyuz craft won't leave the ISS empty however, as it will be bringing home the Expedition 45-46 crew: NASA Flight Engineer Kjell Lindgren, Soyuz Commander Oleg Kononenko of Russian Federal Space Agency and Japan Aerospace Exploration Agency astronaut Kimiya Yui.