Call Malaysia Airports to Claim Your Plane
Kuala Lumpur International Airport has three abandoned airplanes on its grounds, and wants them gone.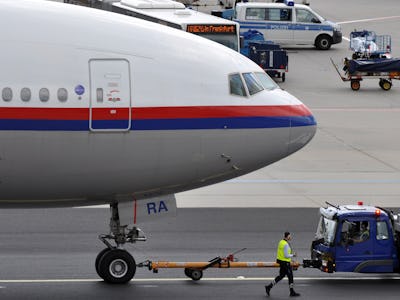 Eric Salard | Flickr Creative Commons
The three Boeing 747-200F jets that have been abandoned at Kuala Lumpur International Airport in Malaysia for more than a year may soon end up airport property.
As if preparing to empty a massive Lost-And-Found box, the Malaysia Airports company has published advertisements (in The Star and Sin Chew Daily) aimed at the still-unidentified plane owner or owners that state: "If you fail to collect the aircraft within 14 days of the date of this notice, we reserve the right to sell or otherwise dispose of the aircraft."
According to Malaysia Airports, the business may do so legally under Malaysia's Civil Aviation Act of 1969, as Sin Chew Daily reports it has been told by a Civil Aviation Department source:
"Like a car parked at a public garage for several months without paying, the car park operator has the right to auction the vehicle to pay for the owed parking fees."
The airport claims the three planes have sat untouched for over a year, and the ownership paper trail has gone cold. CNN reports that the three planes once belonged to leasing firm Air Atlanta Icelandic, but that the company claims it sold the trio of jets in 2008. The Star writes that the planes were all de-registered between June 2011 and January 2012.
The advertisements ran on December 7, so unless the owner makes his or her interest known, the three planes will be seized on December 21—but if you're the owner, and just not sure how to reach out, just shoot Malaysia Airports General Manager Zainol Mohd Isa a call at 03 87766100.